I remember studying about coconut oil and all it's properties from my school days.
The only reason I even let my mother use coconut oil on my hair (believe me I hated it!) was because it promised me good hair..
But besides the hair, very few are aware of the effect on coconut on skin!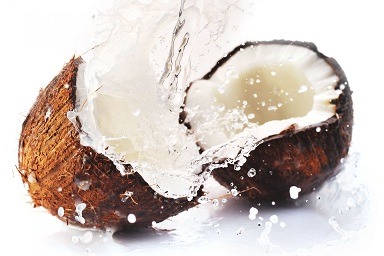 The goodness of coconut for the skin
Coconut oil has been used as a natural skincare treatment for centuries. Coconut oil is nature's most abundant source of Medium-Chain Triglycerides. When applied to your skin, your natural good bacteria convert these Medium-Chain Triglycerides into Antimicrobial Fatty Acids. Antimicrobial Fatty Acids prevent viral, fungal, and bacterial infections, including yeast!
Antimicrobial Fatty Acids act like nature's natural bodyguards for your skin.
It all comes down to the small molecular structure of coconut oil. Its undersized structure promotes easy absorption through the skins pores and follicles. Coconut Oil's deep moisturizing properties rapidly hydrate, condition, and shield the skin from moisture loss.
Not only is Coconut oil vitamin enriched in vitamins A, B, C, and E, and nourishes your skin, coconut oil is a natural anti-oxidant that helps the skin repair itself. Coconut Oils protective anti-oxidant qualities protect the skin from free radicals and other environmental aging factors. Free radicals break down the connective tissues in your skin causing your skin to harden and lose its natural elasticity and strength. All the signs we see in aged skin! Conventional skin products are not made with anti-oxidant loaded fats like coconut oil. Instead, they often use highly refined vegetable oils, which may have had all their good anti-oxidants removed from over processing. These highly refined vegetable oils are actually prone to free-radical generation! If you apply a product that uses highly refined vegetable oil instead of anti-oxidant loaded oil like Cold Pressed Coconut Oil, you may actually be causing you skin to age faster! This is why you should always be careful about what skincare products, lotions and lip balms you use.
Pros of using coconut on your skin
Makes an excellent massage oil
Effective moisturizer on all types of skin (even dry)
No side effects whatsoever.
Exfoliates the outer layer of the skin.
Prevents dryness and flaky skin.
Delay wrinkles and sagging of skin.
Treats various skin problems, like psoriasis, dermatitis, eczema and other skin infections.
Prevents premature aging with it's antioxidant properties.
Parachute Advansed Body Lotion: 250 ml
Parachute Advansed body lotion which is one of the only moisturizers with 100% natural moisturizers and goodness of coconut milk, promises to make skin delightfully soft and smooth in just 7 days. Treat yourselves to Parachute Advansed Body Lotion, which helps you rediscover soft skin and naturally so! Enriched with the goodness of coconut milk, it works in a superior manner to actually penetrate deep into skin and nourish it from within – leaving your skin feeling soft, glowing and supple, absolutely irresistible to touch!
Pamper yourself for the first time ever with the nourishment of coconut milk, as it moisturizes and hydrates the skin like no other ingredient! As the coconut- based moisturizers are similar to the skin's natural oils, they penetrate the skin deep within and lock in moisture, doubling moisture levels in just 2 hours. The result is soft, delightful skin you've always dreamt of!
So, treat your skin to the luxury of pure coconut milk with Parachute Advansed Body Lotion and gain soft, glowing and supple skin in just 7 days!
Parachute Advansed Body Lotion Variant Details
Dry Skin, Intense Care: for dry skin that needs intense moisturization.
All Season, Gentle Care: for skin that requires light moisturization.
Ingredients: Cocos, Nucifera oil, Glycerin, Isopropyl Mysirate, Stearic Acid, Triethanolamine, Coconut Milk, Glyceral Stearate, Hydrogenated Vegetable Oil, Dimethicone, Steareth-21, Steareth-2, Fragrance, Methyl Paraben, Carbomer, Propyl Paraben, Phenoxyethanol, BHT, Disodium EDTA.