rihanna: fierce feathers
Looks like RiRi is ready to ruffle some feathers! Dressed in a seafoam, feathered top with matching cropped pants, the singer launches her new fragrance Reb'l Fleur on Aug. 19 in London. Is Rihanna's daring look suited for a big star -- or just Big Bird?
Rihanna might look like a tropical bird, but you can fare better better, if you keep it simple..
Stick to basic colors like black and white when experimenting with feathers.. If you still are skeptical, then add feathers to your look with a bag or a pair of nice shoes.
ASOS Feather Corset Dress
Glamorous Dress With Feather Skirt
Lipsy Exclusive To ASOS Metal Feather Drop Earrings
Manoush Angora Cardigan With Feather Trim
ASOS PRIMROSE Feather Jewel Peep Toe Court Shoes
NOW £35.00
ASOS Multi Feather Neckchain
MATTHEW WILLIAMSON
Ostrich feather-trimmed silk-tulle dress
VIONNET
Feather-trimmed silk-chiffon gown
Manoush Angora Cropped Gilet With Feather Plume
ASOS Feather Clutch Bag
ROKSANDA ILINCIC
Pheonix feather-embellished cropped silk jacket
$2,790
EDDIE BORGO
Silver-plated feather earrings
$375
AZZARO
Cropped feather jacket
$1,680
GIAMBATTISTA VALLI
Feather-trimmed metallic tweed jacket
$3,400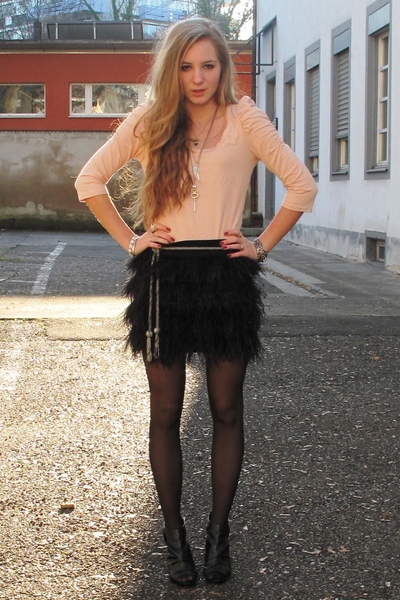 demi lovato: showing off
Skyscraper singer Demi Lovato bares all in a revealing white halter dress with silver beading to the Do Something
Awards on Aug. 14 in L.A. The 18-year-old singer certainly looks glamorous -- but is her grownup style a little too sexy?
It may be an old wives tale, but when you wear a low neck with cleavage on display, you should cover up your legs! So your either show your legs or cleavage, but not both at the same time.. And then of course, your neckline shoud be age and size appropriate!!
Halston Heritage Maxi Dress With Halter Neck
ASOS PETITE Exclusive Halter Cross Back Slinky Mini Dress
NOW £28.00
ASOS Drapey Calf Length Halter Dress
NOW £20.00
Jovonna Beaded Halter Dress
Kookai Beaded Waist Halter Dress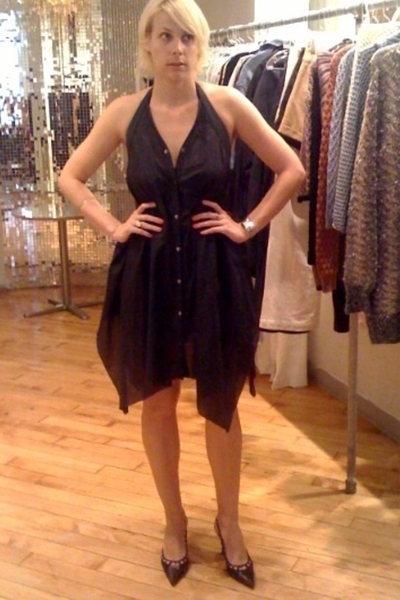 scarlett johansson: color scheme
A redheaded Scarlett Johansson attends Disney's D23 Expo in Anaheim, Calif., on Aug. 20 sporting a structured, fiery-orange shift dress. While Scarlett's look is definitely fresh and fun, we're kind of on citrus overload with the matching hair, dress and even the lip color. Orange you glad she didn't wear orange shoes, too?
Orange is one of the season's hottest colors. However it is never advisable to get too matchy-matchy! Add orange to your wardrobe now!
Vero Moda Tie Neck Front Dress
ASOS SEQUIN MINI Dress
Aqua Parnassus Shoulder Pad Panelled Low Back Dress
Whistles Waffle Tessa Shift Dress
NOW £66.50
ASOS Cut-Out Summer Dress with Low Square Back
NOW £17.00
ASOS Shoulder Fold Flippy Dress
Fiorelli Roka Leather 10 Inch Laptop Case
ASOS Clean Line Buckle Satchel
Modern Vintage Premium Leather Multi Strap Sandal
ASOS Orange Coloured Skinny Jeans
ASOS Padded Tie Front Twist Swimsuit
ASOS Macramé Fringe Tee
STELLA MCCARTNEY
Edna wool-twill dress
ALEXANDER MCQUEEN
Wool-crepe mini dress
$1,885
SONIA BY SONIA RYKIEL
Polka-dot silk-blend cardigan
$575
MELISSA ODABASH
Sharize embroidered cotton-voile kaftan
$210
J BRAND
811 mid-rise twill cropped skinny jeans
$175
K JACQUES ST TROPEZ
Picon suede sandals
$225
julianne moore: prim and proper
Actress Julianne Moore attends an event in N.Y.C. on Aug. 16 wearing a Mad Men-esque ensemble. With the giant, sheer bow adorning her long-sleeved, black dress, Moore could be mistaken for a conservative pilgrim. Luckily her sexy, leopard stilettos help liven up the look!
Pussy bows are probably the cutest things ever! However it does not mean you have to dress like a nun! Wear a bow with a dress, or a blouse or a shirt, wear it at your neck like a tie or at the shoulder, and wear it with style!
Lipsy Flocked Heart Pussy Bow Blouse
A|Wear Bow Neck Shift Dress
ASOS Pussy Bow Dress with Black Spot Collar
NOW £32.00
Mango Contrast Bow Collar Shirt
ASOS Velvet Oversized Bow Tie
Mango Pussy Bow Top
ASOS Jumper With Pussy Bow
ASOS Pussy Bow Denim Blouse
Paprika Pussy Bow Puffball Mini Dress
MOSCHINO CHEAP AND CHIC
Bow-front silk-blend dress
zoe saldana: metallic moment
Zoe Saldana attends the premiere of her newest flick Colombiana in Miami on Aug. 22 wearing a gold mini-dress with a plunging neckline. With her tiny figure, the gorgeous star can pull off anything. But we have to wonder: Would the look be even better if she ditched the flowing train?
Get your own gold dress, without all the unnecessary drama, cuz after all, wearing gold as a color is already a big enough statement, no need to emphasize it even more! And why stop at gold? Silver is just as hot!
Suzie Wong Nell Emerald Sequin Embellished Dress
Halston Heritage Embellished Dress
Glamorous Sequin One Shoulder Dress
ASOS PREMIUM Mermaid Sequin Bandeau Dress
NOW £28.00
Kara Ross Small Dea Glitter Silver Zebra With Silver And Heamatite Clasp Bag
Rare One Sleeve Sequin Dress
NOW £25.00
ASOS STRIKE Mary Jane with Straps
Miss KG Harajuku Sparkly Platform Strappy Sandal
Vivienne Westwood Anglomania For Melissa Button Detail Glitter Ankle Boots
Miss KG Tatiana Glitter Platform Wedges
Miss KG Precious Sequin Platform Court Shoes
Carvela Adora Sequin Peep Toe Heeled Court
Mango Sequin Stars Vest
Mango Sequin Cardigan
TIBI
Jacquard and ruched silk-chiffon dress
VERSACE
Paillette-embellished printed dress
MATTHEW WILLIAMSON
Sequin and feather hand-woven dress
DAY BIRGER ET MIKKELSEN
Sequined tulle and jersey dress
$500
kelly osbourne: bold move
Fashion Police panelist Kelly Osbourne may have committed her own fashion faux pas at the screening of God Bless Ozzy Osbourne in Hollywood on Aug. 22. Her graphic-printed mini and sparkling silver pumps sure spice up the red carpet. But perhaps Kelly should have opted for either the crazy print or the bold shoulders -- not both.
Following trends, is always nice, but the trends wearing you is a no-no.. Wear either a crazy graphic tee or a tunic or even a dress, but try not to play around with too many ongoing trends. Always make sure you balance out this trend with neutral accessories.
Karen Millen Graphic Neon Tribal Print Cross Front Dress
NOW £112.00
ASOS Bodycon Dress in Graphic Print
NOW £19.00
Numph Graphic Print Dress
Vero Moda Very Graphic Print Dress
ASOS Graphic Embellished Crop Top
A.P.C. Madras Graphic Print Silk Playsuit
NOW £80.00
Miss Sixty Astmmetric Flute Sleeve Printed Dress
Warehouse Printed Exposed Shoulder Top
Ted Baker Orchid Print Jersey Maxi Dress
Ted Baker Ikon Print Bag
ASOS Leafy Tropical Print Cut Out Suit
Karen Millen Silk Vest With Graphic Print And Asymmetric Hem
ANTONIO BERARDI
Graphic stretch-wool dress
VIONNET
Silk crepe de chine dress
EMILIO PUCCI
Printed halterneck bikini
$395
MARY KATRANTZOU
Kite Runner printed silk-jacquard dress
$4,525
VERSACE
Printed velvet motocross jacket
$3,395
EMILIO PUCCI
Printed iPad case
$330
MARNI
Printed glossed-canvas tote
$295
JIMMY CHOO
Scarlet printed glazed-canvas tote
$895
zooey deschanel: collar blind?
New Girl star Zooey Deschanel sports a dramatic, black-and-white dress to the L.A. premiere of Our Idiot Brother on Aug. 16. We love Zooey's whimsical style -- but these gigantic ruffles kind of make her look like she's clowning around.
Monochrome.. There is something that is just so cute and whimsical about black and white as a color combination. Both are such classic colors and together they us a vintage feel with a modern twist.
Ringspun Monochrome Batwing Dress
Yumi Monochrome Shift Dress
ASOS SLICE Slipper Platform Court Shoe
ASOS Spot Print Bowling Bag
Minkpink "Stop and Stare" Polka Dot Chiffon Blouse
Just Female Monochrome 2 in 1 Dress
ASOS Monochrome Colour-Block Shift Dress
NOW £24.00
NOTTE BY MARCHESA
Strapless silk dress
ALICE + OLIVIA
Satin-twill and jersey one-shoulder dress
JAY AHR
Tiered lace halterneck dress
MILLY
Belted jersey dress
DIANE VON FURSTENBERG
Printed silk-jersey wrap jumpsuit
$465
DOLCE & GABBANA
Star-print stretch-silk pants
$595
MISSONI
Zigzag wool-blend scarf
$315
$19.80
Contrasting Stripes Dress
busy philipps: too busy?
Cougar Town actress Busy Philipps likes to mix things up -- literally! While attending the Hollywood premiere of 30 Minutes or Less on Aug. 8, she rocks a feather-printed skirt with a green patterned top. While they don't particularly go together, we're guessing that's the point. The risk-taking star pulls off the loud look with neutral accessories to tie it all together.
Another new 'in' thing is mixing prints.. But beware its really not for the faint hearted, one mistake and you may end up looking like grandma's couch and curtains.. Learn from basics. First start with polkas and stripes and gradually move on to animal prints and florals and the rest.
Angel Eye Mix Match Print Dress
Band Of Gypsies Mixed Print Panelled Dress
Pippa Lynn Mixed Print Peter Pan Collar Sleeveless Tunic
NOW £20.00
A|Wear Mix & Match Print Dress
NOW £22.00
ASOS Maxi Dress with Star Print
Olivia velvet dress
DOLCE & GABBANA
Printed silk-satin dress
CLEMENTS RIBEIRO
Printed silk-damask dress
DOLCE & GABBANA
One-shoulder printed silk-chiffon gown
$3,595
miranda kerr: lace time
New mom Miranda Kerr shows off her enviable post-baby body at the at David Jones Elizabeth Street Store on July 28 in Australia. Being a Victoria's Secret model, we understand her urge to bring the sex appeal. But with so much red lace, this looks more like naughty lingerie than an actual dress.
Lace, like animal prints, lie on the fine line between tacky and glam. If not worn well, it can look very cheap and very 'hooker-ish' which is definitely not what we aim for! So maybe limit the amount of lace, to one part of the dress, or even so, wear a dress completely of lace, but make sure to ask your mum, sister or close girl friends, for an honest opinion, cuz even the best of us make mistakes! If you cant pull off a lace dress, then stick to accessories.
ASOS Lace Sweetheart Body
ASOS Lace Dress with Full Skirt
Rare Layered Lace Dress
ASOS Lace Dress with Appliqué Neck
Karen Millen Fitted Dress In Lace With Jacquard Binding
Lipsy Lace Insert Panel Dress
ASOS Lace Dress With Scalloped Neck
Sam Edelman Sahar Lace Heeled Shoe Boot
ASOS MOUSE Lace Detail Flat Shoe
Karen Millen Lace Baby Bowler Bag
NOW £88.00
ASOS TORNADO Lace Shoe Boot
ALICE + OLIVIA
Beaded lace dress
ROSAMOSARIO
Lace and silk corset dress
TEMPERLEY LONDON
Lace dress
EMILIO PUCCI
Chantilly lace ruffled blouse
$2,195
ERDEM
Giselle lace dress
$22.80
zooey deschanel: frilly frock
New Girl star Zooey Deschanel rocks a black-and-white, one-shouldered cocktail dress for the Fox All Star Party on Aug. 5 in Malibu. While Zooey looks adorably sweet, she always seems to wear dresses that remind us of the prom! We think she could step it up a notch.
The one shouldered dress trend is one of my favorites, and you can hardly ever go wrong with it. Wear fun, flirty dresses with soft drapes and ruffles and always make sure you balance it out well, for example, when you go for a ruffled sleeve/neckline, the bottom should be sleeker and more structured so you dont look too puffy..
Paprika One Shoulder Corsage Prom Dress
NOW £15.00
ASOS Pleated Dress with One-Shoulder
Liquorish One Shoulder Ruffle Dress
ASOS PETITE Drape One Shoulder Dress with Gathered Drape
Jovonna One Shoulder Dress
TFNC Chiffon Drape Dress With Bow Shoulder
NOW £36.00
Forever Unique One Shoulder Zip Detail Dress
Lipsy Pleated Frill One Shoulder Dress
ASOS SALON One Shoulder Dress with Puff Sleeve
NOW £25.00
NOTTE BY MARCHESA
One-shoulder silk-crepe dress
NOTTE BY MARCHESA
One-shoulder silk-organza and silk-crepe dress
JAY AHR
One-shoulder stretch-jersey mini dress
NOW £39.00
emma stone: hip hip hooray
Starring in three major films this summer, actress Emma Stone is creating major buzz on the red carpet! Usually women don't want to call attention to their hips, but we appreciate that Emma doesn't shy away from a unique silhouette. She goes bold in a pink-and-red dress for the Friends with Benefits premiere on July 18 in N.Y.C. -- and one day later she rocks a structured lace LBD for the premiere of Crazy, Stupid, Love
ASOS Tiered Hip Bandeau Dress
NOW £13.00
ASOS BLACK Piped Ruffle Hip Bandeau Dress
NOW £31.00
ASOS BLACK Exaggerated Hip Textured Dress
NOW £34.00
ASOS CURVE Exclusive One Shoulder Ruffle Hip Dress
NOW £16.00
ASOS PETITE Tulip Dress with Tie Back
NOW £24.00
Traffic People Silk Satin Tulip Dress
Aqua Lobster Open Back Structured Peplum Dress
NOW £63.00
Aqua Wendy One Shoulder Peplum Dress With Structured Frill
NOW £88.00
TFNC Pleat Trim Peplum Bandeau Dress
Aqua 'Klingon' Peplum Skirt
MCQ
Zip-detailed stretch-cotton dress
NOTTE BY MARCHESA
Ruffled silk and silk-organza dress
STELLA MCCARTNEY
Cotton-blend peplum dress
rihanna: man's world
Rihanna definitely isn't afraid to show some leg! The singer seems to have forgotten her pants as she strolls through N.Y.C. on July 18. We're all for the menswear trend, but this button-down shirt kind of makes RiRi look like she's doing the walk of shame.
Wearing a shirt as a dress, is just so sexy, but it comes with a list of rules.. Like wear a bra! If its too short, wear shorts or tights or even leggings. Groom yourself well, you don't want that just out of bed look, ever! So you can borrow your dad's, boyfriend's or shop in the gents section, or just buy a nice over sized women's one.
ASOS Shirt Dress with Cap Sleeve
NOW £24.00
Levi's Bold Check Shirt Dress
NOW £40.00
What Goes Around Comes Around Clarissa Western Shirt Dress
NOW £55.00
Motel Celeste Long Line Shirt Dress
NOW £25.00
Diesel Denim Oversize Shirt
ASOS Shirt Dress with Curved Hem
NOW £15.00
ASOS Oversize Sheer Shirt
American Apparel Floral Chiffon Oversized Shirt
FAITH CONNEXION
Studded plaid cotton-blend shirt
KIKI DE MONTPARNASSE
Fantasy cotton-voile shirt
LEVI'S MADE & CRAFTED
Plaid cotton shirt dress
BALMAIN
Plaid cotton shirt
jayma mays: short and sweet
It's not easy being green! Jayma Mays' bold, skin-baring mini (which she wears for the premiere of The Smurfs on July 24) is a far cry from the cardigans and pencil skirts she sports as Glee's conservative guidance counselor! But with the applique flowers and super-shiny material, her retro look seems better suited for a disco party than a red carpet.
The little colored dress is now as popular as the LBD and the LWD. Wear a cute colored dress for girl's night out, for a date or even to a club. Make sure its not too shiny, too retro, too short and it always should be age appropriate.
Rare Twisted Gathered Slinky Belted Dress
NOW £29.00
ASOS Ruched Dress with Double Strap
Forever Unique Asymmetric Ruffle Dress
Peoples Market Ruffle Dress
TFNC Dress With Satin Gathered Finish
NOW £8.00
Halston Heritage One Shoulder Ruffle Dress In Hammered Silk
THAKOON ADDITION
Silk-satin wrap dress
ALBERTA FERRETTI
Silk-satin and velvet dress
FAITH CONNEXION
Embellished satin-jersey dress
VIONNET
Matte-satin dress
kourtney kardashian: citrus tones
Kourtney Kardashian takes New York on July 11 in a bright yellow jumpsuit and sky-high nude platforms. We have to give the girl credit: Walking in those heels can't be easy! But that head-to-toe, snakeskin pattern is a whole lotta look -- especially on someone as petite as Kourtney. We do, however, love the loud color pop from her tangerine Birkin.
stylestalker Snake Print Harem Pants
NOW £37.00
O Beach Irresistable Triangle Bikini Top In Snake Print
EQUIPMENT
Signature printed silk-chiffon shirt
MARNI
Watersnake wedge sandals
GIUSEPPE ZANOTTI
Snakeskin peep-toe pumps
ALEXANDER MCQUEEN
Snakeskin and brass wrap bracelet
JIMMY CHOO
Romy elaphe snakeskin travel wallet
JIMMY CHOO
Folly suede and snakeskin wedge sandals
ALEXANDER MCQUEEN
De Manta Faithful snakeskin clutch
heidi klum: droopy dress
It's not hard for Project Runway host Heidi Klum to look glamorous and sultry! The formal supermodel struts her stuff in a blue halter gown at the amfAR Inspiration Gala on June 14 in N.Y.C. The plunging neckline and thigh-high split add sex appeal, but the dramatic draping around the waist adds unneeded bulk. Is her bright gown a hit or miss?
ASOS REVIVE Asymmetric Strap Maxi Dress
NOW £100.00
ASOS REVIVE Hammered Satin Maxi Dress
NOW £65.00
ASOS Maxi Dress with Gold Bar Keyhole
NOW £15.00
Antik Batik Embroidered Deep V Maxi Dress
NOW £217.00
HALSTON HERITAGE
Pleated chiffon one-shoulder gown
MICHAEL KORS
Crepe-jersey gown
NOTTE BY MARCHESA
Embellished silk-chiffon gown
LANVIN
Draped satin gown
ALEXANDER MCQUEEN
Knot-front crepe-jersey gown
ALEXANDER MCQUEEN
Pleated silk-chiffon strapless gown
anna paquin: black beauty?
Anna Paquin usually knows how to rock an edgy dress, but this LBD (which she wore to the True Blood Season 4 premiere on June 21 in Hollywood) seems to have lost its way. The purple piping and sheer midriff (not to mention the visible under-boob!) takes the look from elegant to tacky.
LBD have been in for so long, that now wearing a lbd with mesh, or cut outs or feathers is considered very normal.
ASOS Bodycon Dress with Glitter Print
TBA Velvet And Net Boned Tiered Dress
Motel Erica Contrast Lines Mesh Panel Dress
ASOS One Shoulder Dress with Cut Out Back
ASOS Shift Dress with Cut Out Sides
Karen Millen Fringed Short Dress
Motel Elly Cage Mesh Insert Dress
NOW £33.50
Oasis Keyhole Shift Dress
ASOS Dress with High Neck Mesh
ASOS Bodycon Dress with Mesh Drape
NOW £30.00
CATHERINE MALANDRINO
Asymmetric stretch-jersey dress
jessica alba: bright bump
There's no hiding her baby bump in this eye-catching ensemble! A very pregnant Jessica Alba picks a custom Diane Von Furstenburg color-block creation for the CFDA Fashion Awards in N.Y.C. on June 6. The coral-and-purple maxi dress is certainly bright -- but is it beautiful?
When color blocking, one mus be very careful. Alba looked radiant but were certainly something that was missing from her ensemble. If you are color blocking separates, then try and add a

belt to make it look more solid.
Lipsy Colour Block Metallic Belt Dress
Rare Colour Block Shift Dress
Lipsy Colour Block Frill Bandeau Dress
ASOS Tailored Colour-Block Draped Jumpsuit
M Missoni Colourblock Wrap Skirt With Button Detail
Pearl Colourblock Maxi Dress
ASOS WHITE Crepe Maxi Dress in Colour Block
NOW £30.00
T-BAGS
Embellished stretch-jersey maxi dress
MILLY
Imara color-block textured-cotton dress
DIANE VON FURSTENBERG
Aalisha silk dress






























































































Apparel and accessories from asos.com, net-a-porter.com and forever21.
Images from Chictopia.com