Since her early days on Friends, Jennifer has hit that sweet style spot time and time again. The gorgeous actress is both our favorite funny lady, and seriously hot. It's about time we paid Jen her fashionable dues.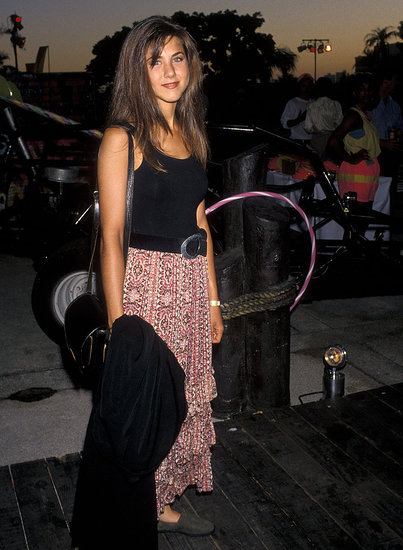 Fresh-faced in 1990 at an NBC event.
Crochet and a bare midriff — plus the infamous "Rachel" cut — at a VH1 event in '95.
In a minimalist, cream gown for the Globes in '96.
Jen went for minimalist separates and chunky heels at the 1997 premiere of Picture Perfect.
A
Cosmo
-appropriate black minidress for her August cover party in '97.
A femme floral print for an NY film premiere in '97.
A red, curve-hugging sheath for the LA premiere of
The Object of My Affection
in '98.
Sophisticated and sleek in a turtleneck and slim maxiskirt in '98.
Toting a leopard print bag a the GLADD Media Awards in '98.
Jen opted for boyfriend jeans and a sheer black top for the Six Days and Seven Nights premiere in June '98.
With faux dreads, a sequined top, and Brad at her side at the '99 Emmys.
A classic black A-line dress and pointed toe pumps for the People's Choice Awards in 2000.
A halter-style maxi and superlong locks made for a boho red-carpet moment at the SAG Awards in 2000.
His and hers leather jackets at the
Erin Brockovich
premiere.
Superchic in black at
Vanity Fair
's Oscar party in 2000.
Sleek in a gorgeous, red strapless at the 2000 Emmy Awards.
A bared midriff and a ladylike skirt for the Rock Star premiere in 2001.
A pant suit and another peek at Jen's toned midriff for the Golden Globes in '02.
Soft and embellished for the 2002 Emmy Awards — the year Jen took home the prize for Best Actress in a comedy series.
One of my favorites: a black, halter style gown for Jen's Golden Globes win in 2003.
A cutout gown for the SAG Awards in '03.
Ladylike red strapless in '04.
Sparkly and sheer for the Along Came Pollypremiere in Paris.
Cool and chic in crisp white pants and sunnies at the IFP Independent Spirit Awards in '04.
An ethereal-style moment at Cannes in '04.
The definition of red-carpet chic in '06.
Sheer ruffles for the
Friends With Money
premiere in 2006.
A creamy palette for
The Break Up
LA premiere.
Glam for
Vanity Fair
's Oscar bash in 2006.
Showing off her stems in shorts and heels in '06.
Perfectly chic cocktail attire for the GLADD Media Awards in '07.
One of the sexiest takes on menswear I've ever seen at the
He's Just Not That Into You
premiere.
A departure from the usual, Jen chose florals for a
Marley & Me
photocall in Paris.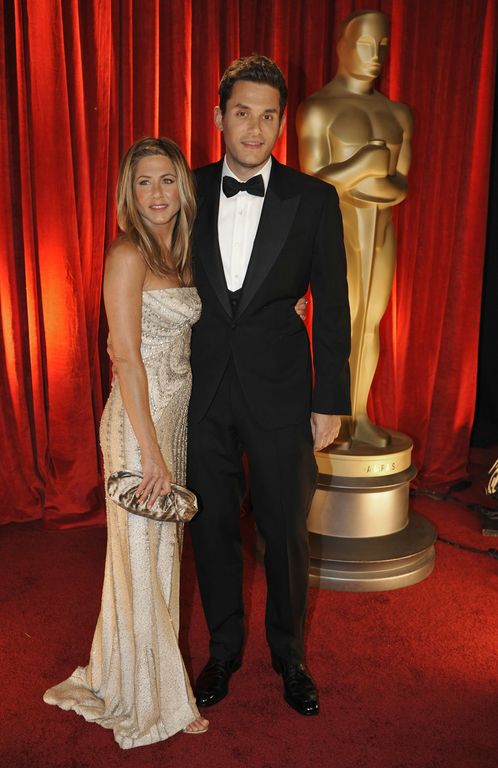 With John Mayer at her side in an embellished strapless at the '09 Oscars.
A metallic, body-con sheath for a special screening of
The Break Up
in '06.
Icy blue and impeccably chic on the red carpet in '09
Classic chic in a pencil skirt and knit top, while promoting
The Bounty Hunter
.
A short gray sheath and tights made for monochromatic perfection at a film screening in '09.
A super sexy LBD for the Madrid premiere of
The Bounty Hunter
.
A blazer and a glittering mini for the red carpet in March 2010.
A sparkly sheath for a film premiere in '09.
Jen turned to sexy, menswear-inspired outfit again for the People's Choice Awards last month.
A tailored minidress and luxurious outerwear while out and about in NYC.
In a style departure, Jen opted to go long in creamy, Grecian-inspired gown for a film premiere last year.
Short and chic in August 2010.
A nude-hued mini for her fragrance launch in June of last year.
Cool in leather and denim on set in NYC this year.
Brightly-hued at the Paris premiere of
The Bounty Hunter
.
True to form in a leg-revealing strapless at a film premiere in 2010.
A sparkly Valentino Couture dress for an appearance in Mexico.
A femme, lacy Nina Ricci dress while promoting
Horrible Bosses
.
Rocking a Balenciaga mini for the
Horrible Bosses
LA premiere.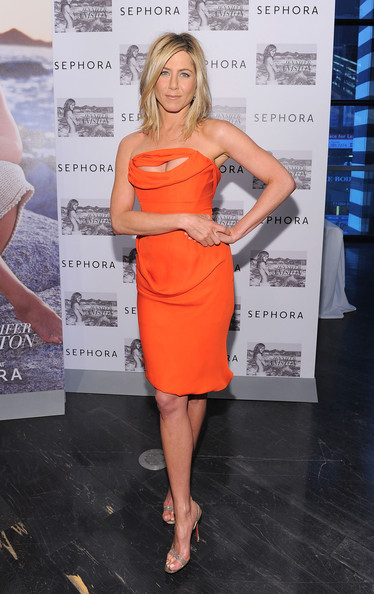 Opting for a bright citrus-hued Vivienne Westwood while promoting her fragrance.