Judging by the number of
pregnant celebrities
strutting their stuff on the red carpet recently, it seems fair to declare the baby bump is the new black.
Among the stylish stars recently/currently expecting:
But how do these women continue to dazzle, even while donning maternity clothes -- not to mention that baby weight? Sure they have their designer clothes and their own personal stylists to help them dress up, unlike us normal people.. But how can we look like them??
It's all about finding the right silhouette,
Amy Tara Koch
, pregnancy style expert and author of "
Bump It Up: Transform Your Pregnancy Into the Ultimate Style Statement
," tells us.
"My poster children for pregnancy were Gwen Stefani, Nicole Richie and Heidi Klum," she says.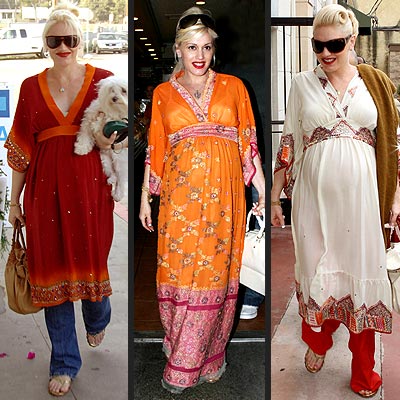 "I mean, the three of them are the triumvirate of maternity moxie.
The key, I always tell women, is to shuffle out of bed, look in the mirror and say, 'How can I look like a long, lean baby-making machine today?' "
Koch and Lisa Hendrickson, chief merchandising officer of celeb-favored maternity line
A Pea in the Pod
, offers tips on dressing like a Hollywood baby-mama.
Here's how to jump on the star style bandwagon when you've got a baby on board:
Shop your closet.
"Go through your closet carefully, because a lot of times you think you have to put things away until after you have the baby, but you can use them in another way," Koch says. "For example, I really like maxi-skirts that have some stretch in them. Pull them up over your boobs and you have a little trapeze dress. Recast existing garments in new ways -- when chain belts don't fit anymore, make them necklaces.
"Kate Spade was so genius when she was pregnant; she took a lot of her coats and she just ripped off all the buttons and wore them as coat dresses and belted them.
I also think taking your husband's shirt when you're pretty big and belting it with leggings and a fab pair of chunky wedge heels is so chic."
Rock runway trends.
"Celebrities take elements from the runway -- current trends -- and incorporate them into a maternity look," Koch says. "Right now, lace is popular, as are prints and bold color." If you don't have the budget for a designer lace dress, find other ways to rock the trend, with an incredible lace innerwear piece or a sexy bra or camisole top peeping demurely from your top.
Tapping in to trends can help you feel confident and au courant.
Invest in denim.
"Celebs love our
designer jeans
," Hendrickson says. "Truthfully, the right pair of jeans can be totally appropriate for any occasion."
Try a trouser- or boot-cut style in a dark wash for work, a looser boyfriend jean for the weekend or a dark, skinny pair for evening.
Create a uniform of basics...
"Your uniform should consist of your basics: your handbag, your little black dress, your tunic, your leggings, your maternity jeans and a wrap dress or a jersey dress,"
Koch says. "And I always recommend getting them in neutral colors. Black is your BFF because it absorbs light, so it's the most slimming color on the planet."
...then dress them up with accessories.
Pair these basics with bolder accessories to mix up your look. This way, you can create endless different looks while only investing in a few basic maternity pieces or larger sizes. Example? Dress up a basic black dress by wrapping a colorful scarf around your neck or even waist and adding a stack of bangles. Or choose jewelry that will draw attention to your glowing face -- long, dangling earrings or a bold, statement necklaces are great for this and create instant chic!
"Big, bold baubles draw attention to the body parts that you want to emphasize and they mask the parts you're not so fond of," Koch says. "Long, layered necklaces are a huge trend for spring, and you will always see this on celebrities because they want to create verticality and look as tall as possible.
"And, if you carry a small bag, the scale is totally off. Big bags are genius, because number one, they kind of camouflage your stomach and, number two, they balance out your bump."
Steal a look from a celeb.
"Natalie Portman has worn the empire waist so well," Koch says. "What's so great about the empire waist is you lose your waist when you're pregnant, so it gives the illusion of a waist just where your bra hits.
And then the fabric flows out and it ruches slightly at the rib cage so it enhances your décolletage, your neck and your shoulders, and it camouflages thicker, bottom-heavy bodies."
Or look at Kate Hudson's boho style.
"Hippie chic is such an awesome look for pregnancy," Koch says.
"It's flowing tunics, fun prints, fringe, earth tones, leather.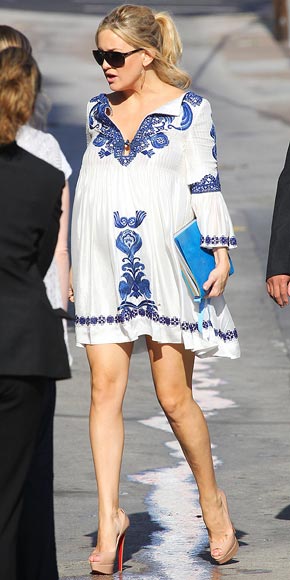 Kate also loves tunics and maxi-skirts, and she loves to wear a tight boy tank top with a flowy, printed bohemian skirt and a jangle of bracelets."
If it's a style you feel comfortable with, try it -- it works great for pregnancy.
Or take a page from StyleList contributor Rachel Zoe's book, and rock the Grecian look, as she recently did on the red carpet.
"She looked amazing," Koch says. "The asymmetrical style goes over one shoulder and is a really incredible silhouette for pregnancy. ... You can belt it, add necklaces, you can wear it throughout your pregnancy.
That has been a big hit for pregnant women on the red carpet and it works for regular women," so you can keep the dress for the long term. Now that's a good investment.
Sleek is chic.
"A big tip is to not raid your husband/boyfriend's closet," Hendrickson says. "Bigger is not necessarily better when it comes to maternity fashion."
Don't fear heels.
"I say you have to wear a heel," Koch says. "You can wear flats -- a gladiator flat in spring and summer, but only if the proportion is right.
(The heel) does not have to be '
Sex and the City
' slutty -- it can just be a kitten heel -- but a wedge, stacked or even a platform heel will give a pregnant woman more stability.
It elongates your silhouette and takes that watermelon in your belly and just makes everything look longer and leaner."
Understand proportion.
"One thing all of the celebrities, or their stylists, recognize is the biggest mistake pregnant women make is bad proportion," Koch says.
"They wear something big on the top and big on the bottom and it makes five pounds look like 50 pounds.
If you're wearing a really blousy top, like a tunic or some sort of gypsy peasant blouse, the bottom has to be countered with a maternity jegging or a legging and bit of a heel so there's balance."
You can shop regular stores.
"You definitely need the jeans and the bottoms to be maternity, but on top you could easily go to a
Tory Burch
or an
H&M
or a
Zara
and buy a nonmaternity piece that's flowy and belt it, accessorize it and make it work," Koch says.
Don't change your style.
This is perhaps the most important rule of all. "Stay true to your prepregnancy fashion identity," Hendrickson says. You should always feel comfortable in what you're wearing and good about how you look, not ridiculous or fashion victim-y. "A Pea in the Pod and
Motherhood Maternity
have all of the current trends and styles, but specially fit to the pregnant silhouette. Pregnancy shouldn't have to change your sense of style, and wearing fashions that express yourself will make you feel your best."