It's a known fact that
Nicole Kidman
-- who just turned 44 -- is a fashion force to be reckoned with. But let's not forget that back in the day the darling redhead (and former wife of Tom Cruise) chose unpredictable and unabashedly embellished looks. Now, the mother of four and wife of country star Keith Urban opts for more simple and sophisticated ensembles on and off the
red carpet
.
But don't think this Australian has has abandoned her signature style -- by the looks of her recent glam get ups, those sequins, feathers and beads are here to stay.
Kidman told "Glamour" in 2008 that when she was married to superstar Tom Cruise, she felt it was her job to fade into the background. Perhaps that explains the wallflower look she picked for the 1992 ceremony adding Cruise's hand and footprints to the famed Mann's Chinese Theater "Forecourt of the Stars."
Nic's first red carpet step towards fashion stardom was the stunning who's-a-wallflower-now Dior gown that she wore to the The 69th Annual Academy Awards in 1997 when she literally and figuratively towered over Tom.
Kidman had our eyes wide open when she wore this daring maroon two-piece to the 1999 premiere of "Eyes Wide Shut," the controversial film she co-starred in with Cruise. Perhaps some things -- like Nicole's ribs and the Cruises a deux -- are better left to the imagination?
Lest anyone doubt she has the tiniest waist (and the tightest forehead) on the planet, Kidman bared her belly (and her widow's peak) at the 2000 premiere of Cruise's thriller, "Mission: Impossible 2".
After ten years together, Nicole and Tom filed for divorce in 2001. That summer, a newly single Kidman ooh-la-la-ed in a can-can inspired Tom Ford dress at the Cannes Film Festival premiere of "Moulin Rouge."
She didn't win a statuette, but Kidman, a Best-Actress nominee in 2002 for her performance in "Moulin Rouge", glowed as she walked the Oscar red carpet in a tiered pale pink Chanel Couture gown
In 2003, Nic took home a boatload of awards for her Virginia Wolff role in "The Hours'' -- and just as many fashion plaudits for her turns on the red carpet. To accept her Best Actress Golden Globe, she chose an asymmetric Tom Ford for Yves Saint Laurent dress, and then upped the edginess quotient in the strappy black Jean-Paul Gaultier that she wore to the Oscars.
Just when she had you thinking she was the ultimate ruffles-and-flourishes gal, Kidman donned a dapper metallic tux for the New York premiere of her 2003 film, "The Human Stain".
For the 2003 Cannes premiere of "Dogville" Kidman lit up the red carpet in this bright Christian Lacroix for Emilio Pucci gown, coordinated with multi-colored jewels.
"Cold Mountain" may have been set in the American Civil War, but for its UK Royal Charity premiere in 2003, Kidman wore an oddly futuristic Chanel suit, complete with high-collared metallic blouse and a brow as frozen as the conditions in rural Romania, where the movie was filmed.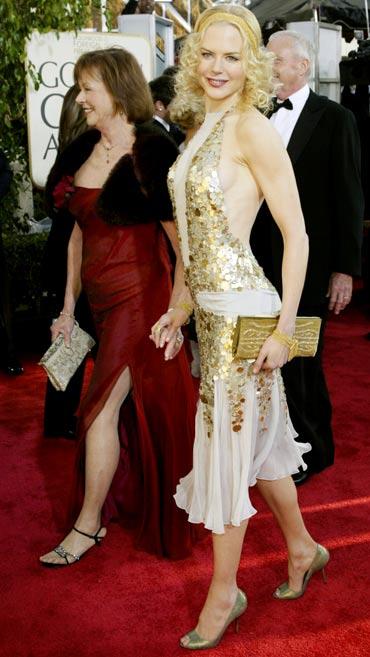 Was it the too-tight headband? The in-her-face curls? Or the flapper-inspired Tom Ford for Yves Saint Laurent dress? Whatever it was, Kidman's too-costumed look for the 61st Annual Golden Globe Awards in 2004 was a rare fashion faux pas.
Back in her old Hollywood-goddess form, Kidman paired this ice blue Chanel gown with a 195-carat Bulgari necklace for the 76th Annual Academy Awards in 2004.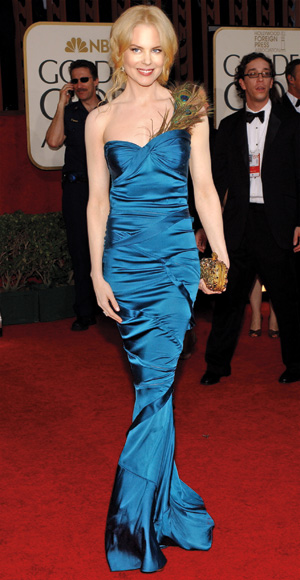 For the 2005 Golden Globes, Kidman wowed the fashion press in a stunning jewel toned Gucci dress with peacock feather detailing.
Kidman wore this delicately beaded Nicolas Ghesquiere dress for the 78th Annual Academy Awards in March 2006. Three months later, she was back in white -- this time, a frothy white Balenciaga (by Ghesquirere) gown -- for her wedding to fellow Aussie Keith Urban.
Wearing Balenciaga for the second year in a row, the newlywed -- and her Christmas-package bow -- stole the red carpet spotlight at the 2007 Oscars.
Are they stepping out for a bankers' ball or a music fest? In their all-too-citified duds, Keith and Kidman made a joint appearance at the 2007 Country Music Awards, he in gray flannels and spit-shinend shoes, she in Alexander McQueen's butterfly print dress.
Perhaps she should leave the metallics to her Oscar statues? Though Kidman is usually a perfect match for Balenciaga's edgy looks, this silvery pantsuit may have been a bit too wrapped-in-aluminum foil, even for her. The outfit, which Nic wore to the Australian permiere of "The Golden Compass," got even worse reviews than the film.
Next stop: the maternity ward. But before giving birth to Sunday Rose Kidman Urban on July 7, 2008, Kidman took one last turn on the red carpet, this time the Country Music Awards. Her strapless chiffon dress was Yves Saint Laurent.
One hot mamma: Three months -- yes, three months -- after giving birth, the sleek-as-ever new mom wore a forest green Prada minidress to ELLE Magazine's 15th Annual Women in Hollywood Awards in 2008.
With a new movie (Baz Luhrman's "Australia"), a new baby, and, by all appearances, a happy home life, Kidman glowed as she closed out 2008. At the Glamour Women of the Year Awards in November, she shimmered in a slim white L'Wren Scott gown.
Nicole Kidman posed backstage during the 44th annual Academy Of Country Music Awards in a L'Wren Scott strapless green gown and Bali-inspired arm band.
Va-va-voom! The redhead chose a L'Wren Scott leather skirt suit for the "Just Go With It" premiere in New York City.
Nicole Kidman was a vision in white at 83rd Annual Academy Awards. The actress chose a Chirstian Dior Haute Couture gown and bright orange Pierre Hardy peep-toe heels.
Donning a Proenza Schouler green and blue striped velvet dress, we were less than impressed with her style choice (check out those mis-matched shoes!) for the 2011 CMT Music Awards.