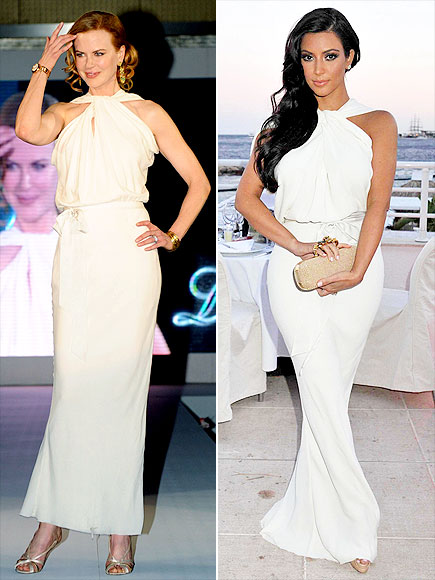 NICOLE VS. KIM
The actress stood tall in her Lanvin gown and strappy sandals for a Beijing event, while the Kim added a glittery clutch in Monaco.
The Verdict :
My vote goes to Kim here, big surprise, but seriously, I think Nicole would have looked much better if her earrings and hairstyle didn't clash that much. I loved how Kim wore tiny studs, and that clutch bag was the perfect addition to the gown.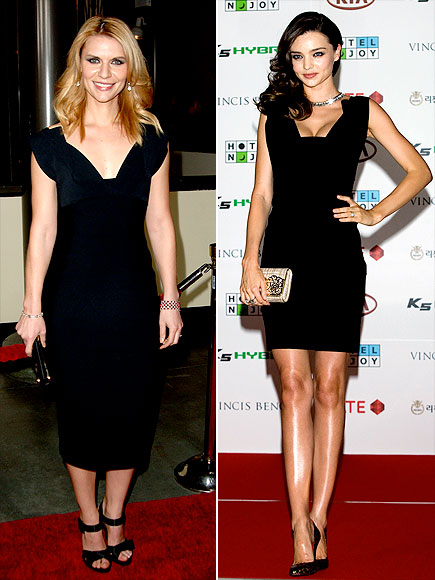 CLAIRE VS. MIRANDA
The actress wore her Roland Mouret dress with ankle-wrap sandals for an awards show in Hollywood, while the supermodel paired her shorter version with sexy pumps in Seoul.
Well I think it is pretty obvious here, Miranda stands tall in her LBD while Claire loses half of her height with that hemline! Also Claire could have done something nicer to her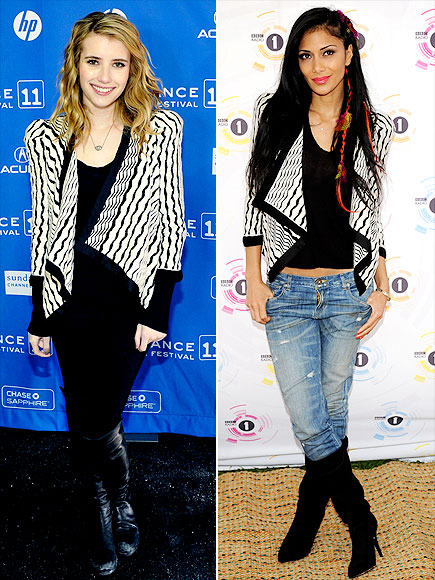 EMMA VS. NICOLE
The young actress wore her McGinn Collection blazer over an all-black outfit at Sundance, while the X Factor judge gave hers a funkier edge with ripped jeans and stiletto boots in Carlisle, England.
The Verdict :
I love how Nicole looks almost pirate-y here. Emma looks fab too, but Nicole brought it with a hint of color though those cute red hair extensions.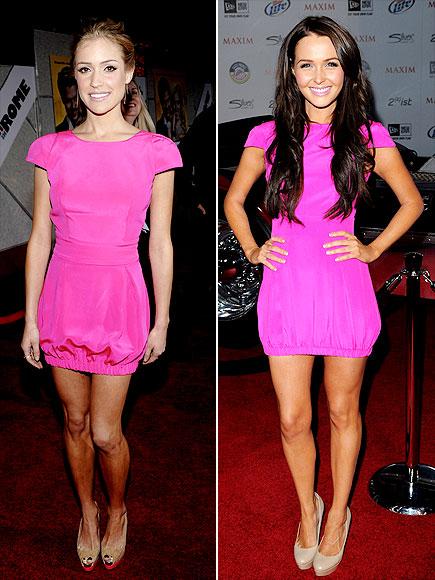 KRISTIN VS. CAMILLA
The Hills alum added peep toes and an updo to her Naven dress for a Hollywood premiere, while the Kate Middleton look-alike went for long waves and nude pumps at a May party.
The Verdict :
Camilla looks very radiant there, not as pale as Kristin, every thing about her look is perfect down to those nude pumps that neutralise this bright almost neon color.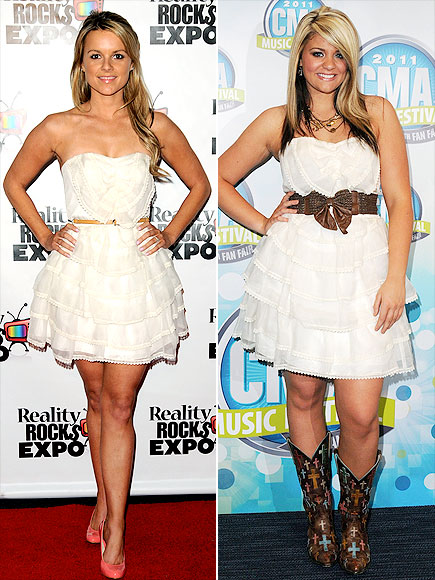 ALI VS. LAUREN
Reality showdown: the Bachelorette star wore her A.B.S. dress with pink pumps at an awards ceremony in April, while the American Idol runner-up added a wide belt, chains and cowboy boots for a CMA event in June.
The Verdict :
Over accessorizing never works well for anyone, especially with a broader frame, not that the dress ever compliments it, Lauren learned the hard way. Ali
who looked pretty as a picture kept it simple in a mustard belt and pink pumps.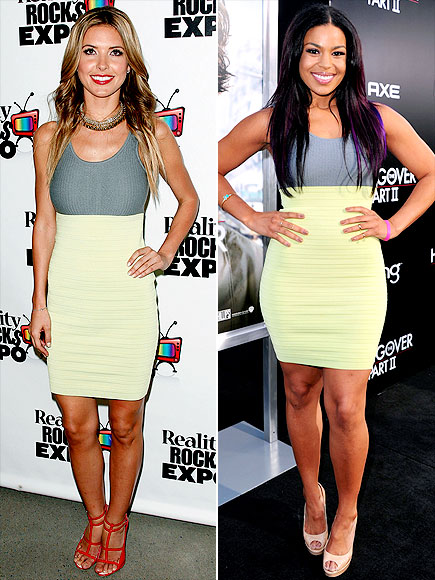 AUDRINA VS. JORDIN
The reality star gave her Cut 25 by Yigal Azrouël dress edge with red sandals and a choker in April, while the
svelte
singer chose simple pumps in May.
The Verdict :
Jordin looks uber confident in this embrace your curves dress, with sexy purple streaks and a pink band/watch that adds some fun to the outfit. If only Audrina had decided between the red sandals OR the choker, she would have looked as fab as Jordin.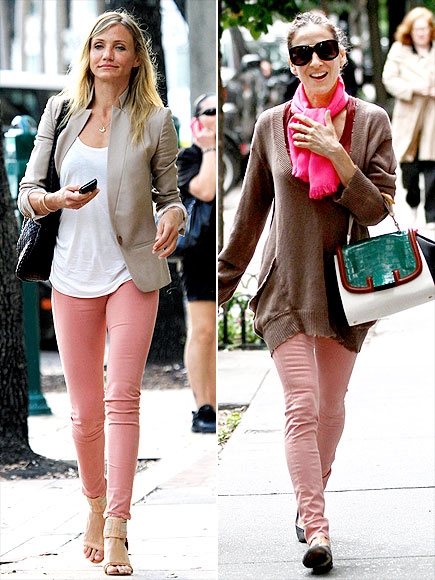 CAMERON VS. SARAH JESSICA
Cameron looked smart in a linen blazer and her Rag & Bone salmon skinny jeans in Miami, while in N.Y.C., SJP added a slouchy sweater and fab bag to hers.
The Verdict :
Cameron looks street chic with her neutral blazer and sandals. While I also love Sarah Jessica's bag and pink scarf, I think it was too much of an overdose, and
didn't really go too well that that slouchy jumper.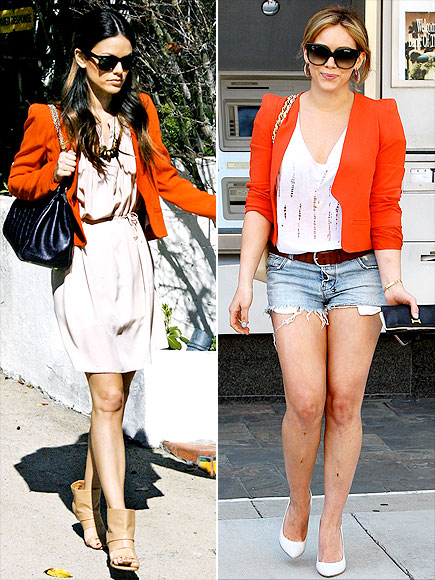 RACHEL VS. HILARY
Rachel sported a sweet dress and booties with her Vanessa Bruno blazer in L.A., while Hilary gave hers a summery twist with cutoffs and white pumps in Beverly Hills.
The Verdict :
While i don't really like Rachel's shoes that much and also I dont like black bags a lot, I still think she fared better than Hilary, cuz my darling Duff, whats the point of wearing a blazer when you are just gonna wear cut out shredded shorts?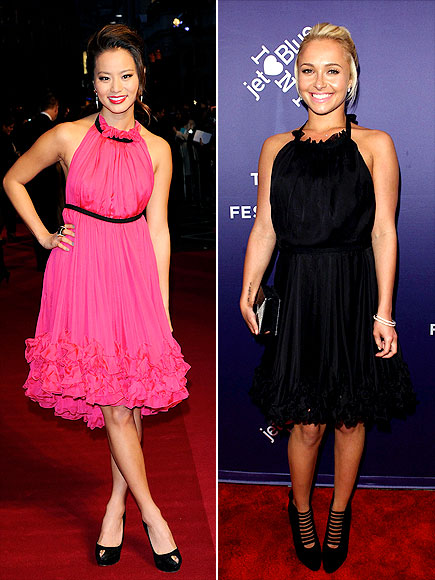 JAMIE VS. HAYDEN
The Sucker Punch star picked the pink version of this floaty D&G dress for the movie's London premiere, while the actress paired a black one with booties in N.Y.C.
The Verdict :
My vote goes out to Jamie for that lovely fuchsia color and for keeping it simple. Hayden looks spectacular as well, but you would think she could have added more color say in the belt or footwear.. As for the upper bodice, well it doesn't look very fitted or flattering on her.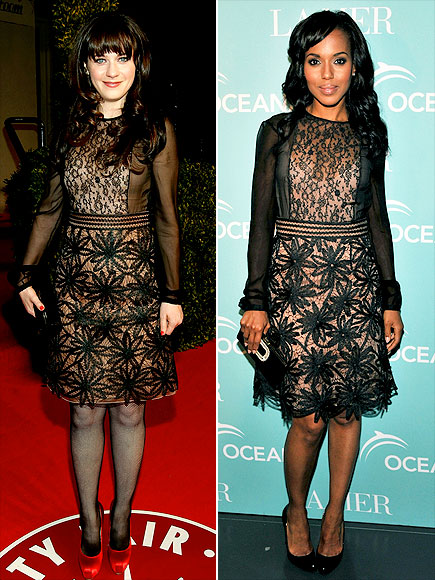 ZOOEY VS. KERRY
Zooey sported tights and red pumps with her Valentino dress at a February Oscars party, while Kerry kept her look monochromatic with black pumps and a clutch in N.Y.C.
The Verdict :
This is a tough one.. The color suits Zooey's skin tone a lot more than Kerry's suits hers.. However, I don't think the high neck is very flattering for Zooey's upper body, I also don't like that Kerry kept it black only, yet I dont like the fact that Zooey wore stockings as they make her legs look chubby.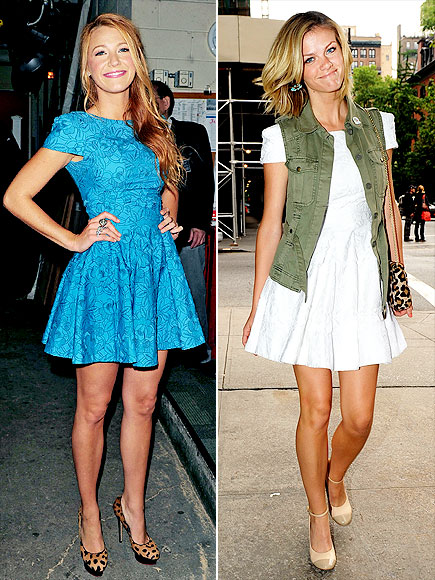 BLAKE VS. BROOKLYN
The actress wore her Tibi frock with leopard pumps in N.Y.C., while across town on the same day, the model topped her white version with a military vest and spotted purse.
The Verdict :
Both wore their dresses with a hing of animal print. I love Blake's color, but I love Brooklyn's even more for that rugged military vest look with this soft dress. Very impressive.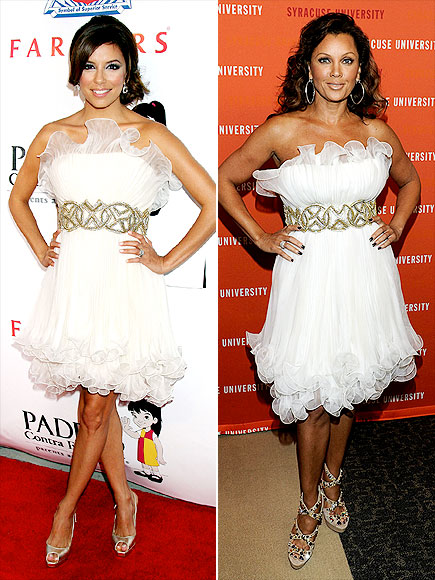 EVA VS. VANESSA
Desperate Housewives showdown: Eva wore her ruffled Marchesa gown with metallic pumps in 2009, while her costar added serious studded sandals in May.
The Verdict :
Ok I know I shouldn't be saying this, but Vanessa (who I love) should learn to dress more age-appropriate at times. This dress is much suitable to petite Eva who I can see looked gorgeous.. Also Vanessa those shoes are just wrong for that dress!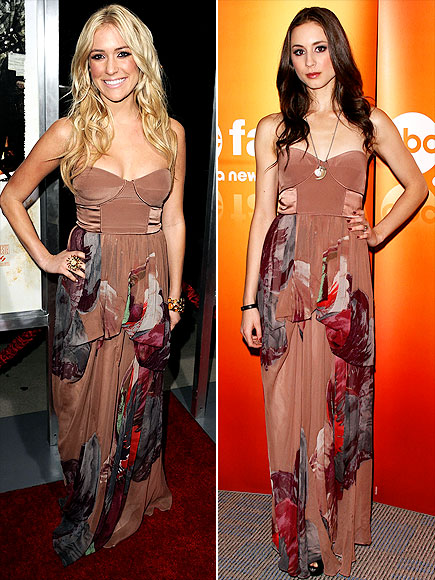 KRISTIN VS. TROIAN
The Hills star added minimal accessories to her Tibi gown at a January event, while the actress layered on funky accents in May.
The Verdict :
Both girls look pretty, but Troian gets my vote here for wearing the correct length, unlike Kristin, who should have hemmed the gown or worn higher heels.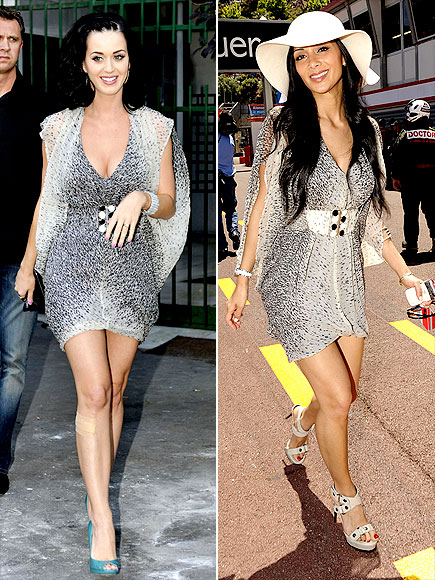 KATY VS. NICOLE
The pop star wore her Marisa Kenson frock with blue pumps and hoops in Paris last year, while the X-Factor judge picked strappy sandals and a floppy hat in May.
The Verdict :
Katy Perry stands out in this one with her aqua blue pumps, whereas Nicole over did it with the hat and those shoes, and even the phone, its just an overdose of white!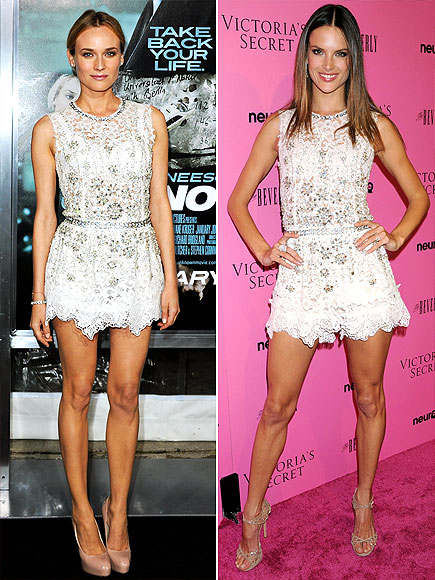 DIANE VS. ALESSANDRA
The actress wore her Dolce & Gabbana little white dress with nude pumps at her Unknownpremiere, while the Victoria's Secret model added metallic sandals for an L.A. event.
The Verdict :
Alessandra gets it right here. Sure Diane looks fine too, but if you look closely, you will get uncomfortable at the length of Diane's mini..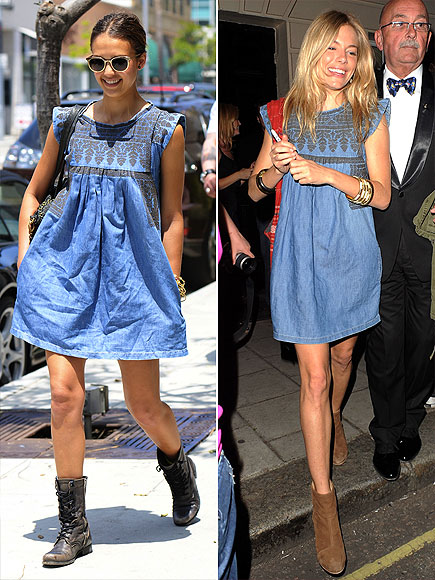 jESSICA VS. SIENNA
The mom-to-be paired her denim Isabel Marant jumper with chunky boots in L.A. last summer, while the Brit styled hers with booties in London.
The Verdict :
I prefer Sienna here, with her red bag and brown neutral boots as compared to Jessica's crumpled and wrinkled dress with her combat boots.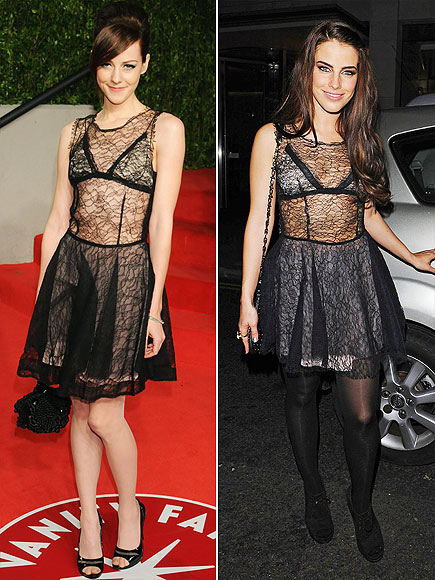 JENA VS. JESSICA
The Sucker Punch actress showed some skin in her Camilla and Marc frock at theVanity Fair Oscar party, while the 90210 star wore a shorter version with tights in London.
The Verdict :
This dress is too over-whelming and not many can pull it off. Jena fares well enough to get my vote. Jessica missed it because of those tights!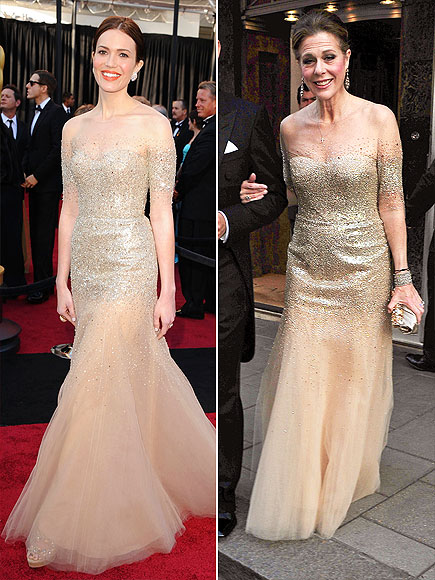 MANDY VS. RITA
The singer sparkled in Monique Lhuillier and button earrings at the Oscars, while the actress accented her gown with drop earrings and a cuff at a London event.
The Verdict :
I would have liked Rita's more if it was not so loose on the waist and hips. Mandy however seems to have the perfect fit.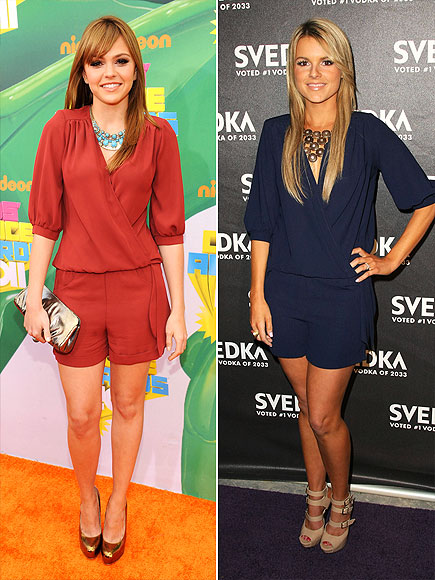 AIMEE VS. ALI
The actress sported the orange version of her The Hellers romper with bronze accessories at the Kids' Choice Awards, while the formerBachelorette star glammed up her navy jumpsuit with strappy sandals for an L.A. event.
The Verdict :
Ali chooses her jewelry wisely to compliment her outfit and finishes with nude sandals that look so great. Whereas Aimee attempts to match a tomato colored outfit to a turquoise beaded neck piece and bronze heels and clutch.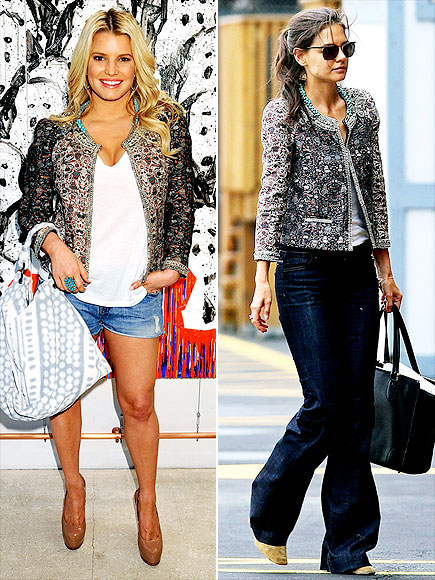 JESSICA VS. KATIE
The blonde bombshell wore her Isabel Marant jacket with cutoffs for a N.Y.C. art event, while the actress paired hers with dark denim a few days later in the same city.
The Verdict :
I love how Katie gives her normal boot cut jeans an elegant edge with that jacket. Jessica looks like she went shopping to a store after buying groceries and just tried on the jacket in front of a mirror!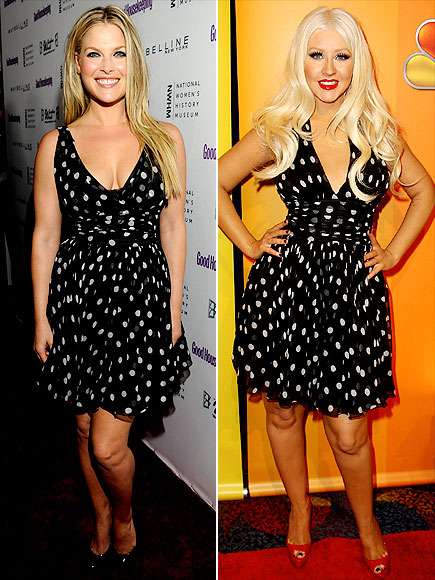 ALI VS. CHRISTINA
The new mom showed off her post-baby bod in polka-dot Dolce & Gabbana in N.Y.C., while The Voice coach added red accents to her retro frock for an NBC event.
The Verdict :
Christina goes old school with the blond hair and her signature red pout, but I think the red shoes were pushing it too far! Ali wins this round even though she wore plain black pumps.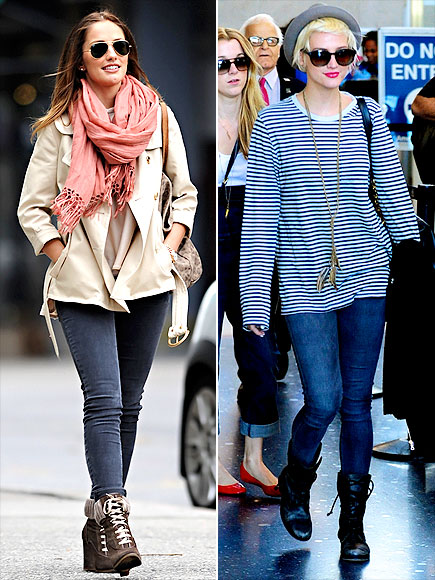 MINKA VS. ASHLEE
The actress got comfy to tour N.Y.C. in her James "Twiggy" denim leggings, while the singer went '60s chic in hers at LAX.
The Verdict :
I love both outfits here, and I love the thought that when you wear skinny jeans/jeggings, you can opt for a loosely fitted tunic/shirt/dress/jumper/jacket, etc.. Both girls have opted for loosely fitted, but I will give this one to Minka for those wedge boots that I cant get my eyes off of!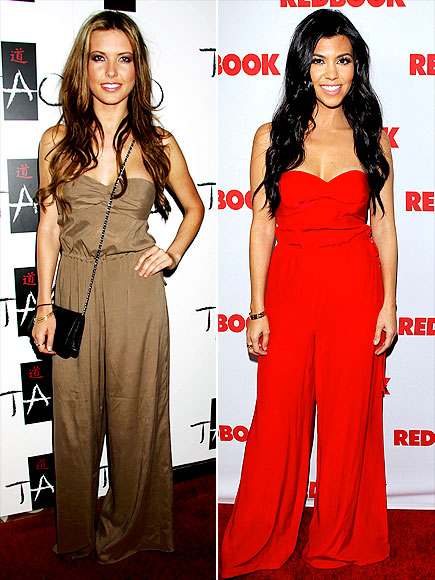 AUDRINA VS. KOURTNEY
The MTV star wore her Jay Godfrey jumpsuit in chocolate with for a 2009 bash, while the E! star wore hers in red to a party in L.A. this year.
The Verdict :
I hate the lengths of both jumpsuits, but I do love Kourtney's red hot color, which works very well for her tone.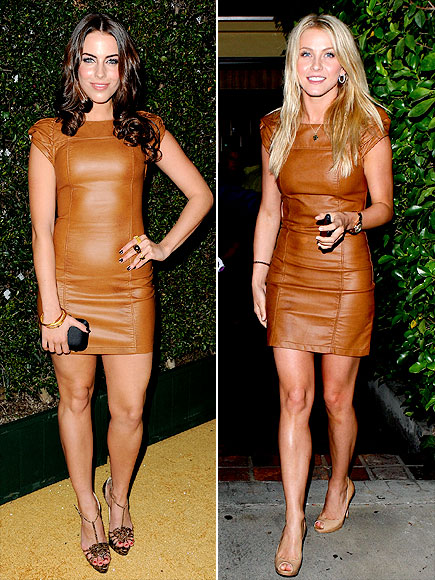 jESSICA VS. JULIANNE
The 90210 star sported a camel H&M mini with edgy touches in West Hollywood, while Ryan Seacrest's love paired the same dress with neutral accessories for a date.
The Verdict :
The worst part about wearing leatherette outfits is when it focuses on your wrong areas.. Like Jessica's stomach area looks just so wrong.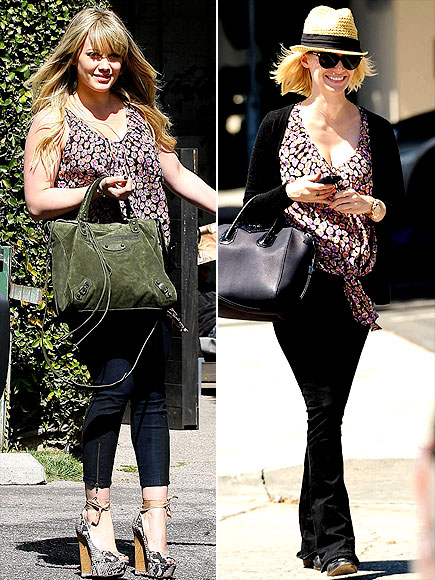 HILARY VS. JANUARY
Hilary topped her cropped skinnies and sky-high wedges with her patterned Fifteen-Twenty top, while January wore hers with a fedora and sleek bag.
The Verdict :
As much I love Hilary's footwear and bag, I have to admit the top makes her look too mumsy. January however accessorise better with sunnies and a straw hat.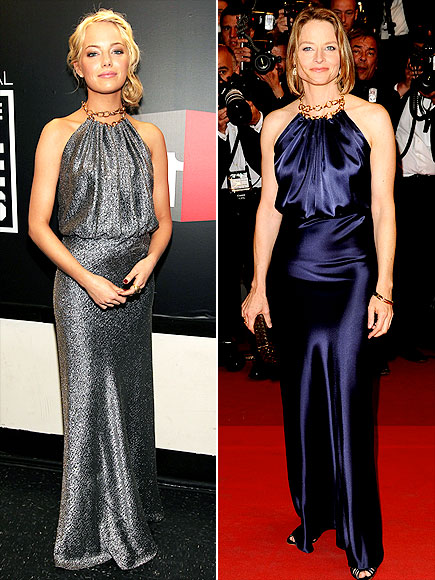 EMMA VS. JODIE
The Amazing Spider-Man star wore her Balenciaga by Nicolas Ghesquière gown with an updo at the Critics' Choice Awards, while the director wore the navy version in Cannes with a boxy clutch and strappy sandals.
The Verdict :
Well like leather, satin too can draw attention to wrong and unflattering places with its unpredictable sheen.. However Emma's shiny gown looks much better and flattering.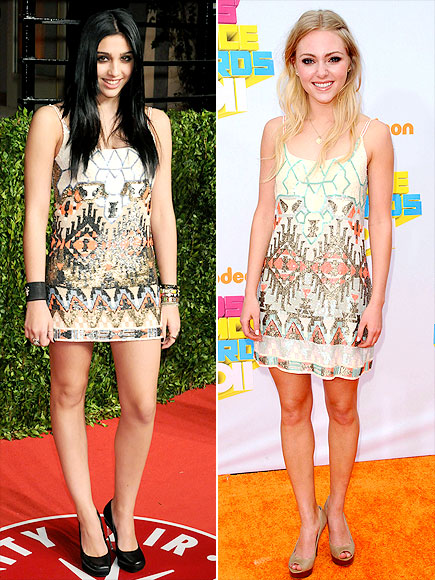 LOURDES VS. ANNASOPHIA
Madonna's teen daughter hiked up the hemline of her All Saints dress and added chunky jewelry at the Vanity Fair Oscar party, while the Soul Surfer star paired hers with delicate neutral accessories.
The Verdict :
Its nice to see Lourdes out in the circuit and she looks lovely, but the shoes are just too boring. Black is so passe at least for me! AnnaSophia gets the shoes right here..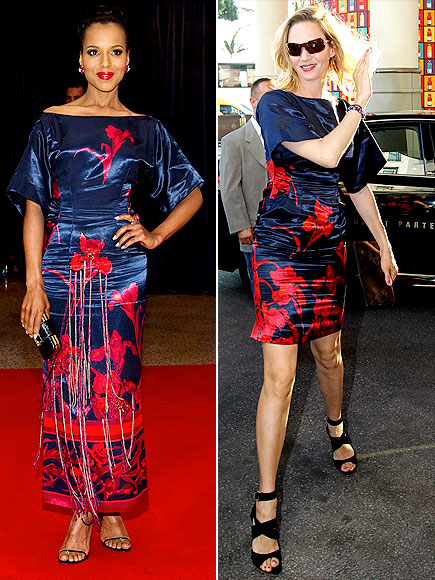 KERRY VS. UMA
The For Colored Girls actress wore her Louis Vuitton gown with sleek sandals and glam red lips at the White House Correspondents' Association Dinner, while the Cannes juror shortened hers and added chunky heels at the festival.
The Verdict :
This outfit looks too oriental on Kerry, not that its a bad thing but it makes me wonder where is her fan? Uma looks better, since the length is much shorter and I love those shoes!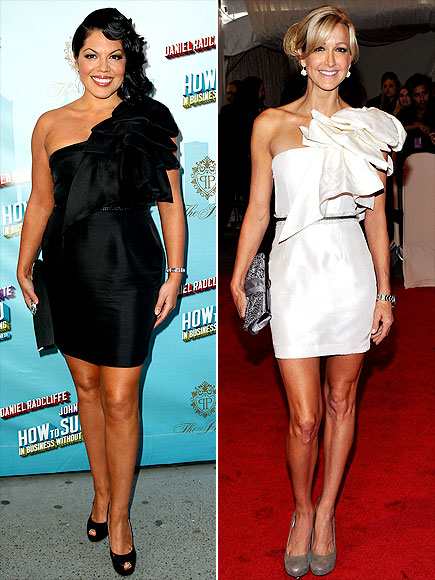 SARA VS. LARA
Grey's Anatomy's doc paired her black Rachel Gilbert frock with matching accessories, while the Good Morning America anchor gave her white version contrast with a lavender clutch and dusty gray pumps at the Met Gala.
The Verdict :
Black again?!?! Sara whats the use of wearing such a pretty dress when you can hardly see the pattern due to lack of light?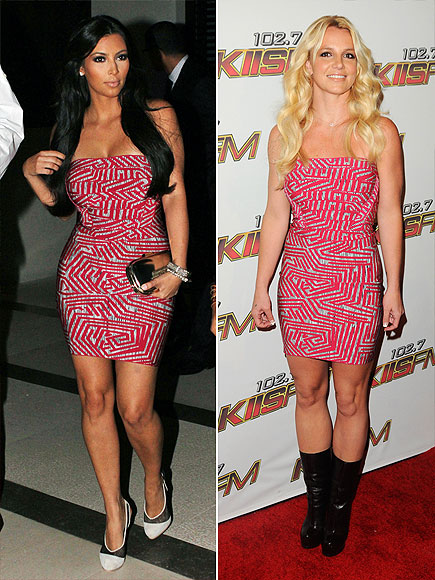 KIM VS. BRITNEY
The reality star showed some skin in her Hervé Léger mini and lacy pumps to grab dinner at Zuma in Miami, while the pop tart added patent boots for her concert the next day.
The Verdict :
Curvy girls always get my vote especially when they wear figure hugging dresses, it just shows their comfort and how much they love their bodies.. And Britney seriously boots??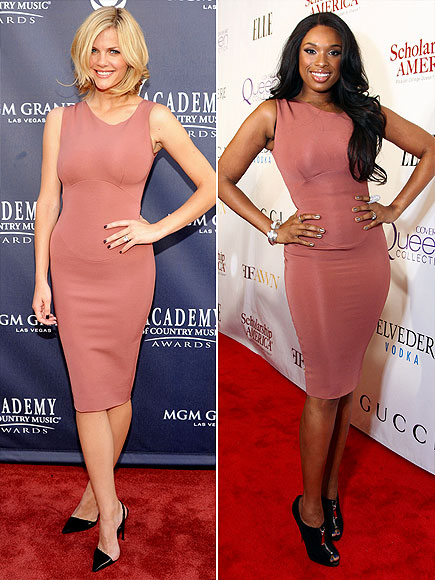 BROOKLYN VS. JENNIFER
Battle of the bods: Both women look sleek in their Victoria Beckham dresses; the model paired hers with black pumps, while the singer added booties and bangles.
The Verdict :
Since I love both so much, I really have nothing much to say, except the Brooklyn should wear shoes that fit her feet, and nothing should be hanging out from the sides.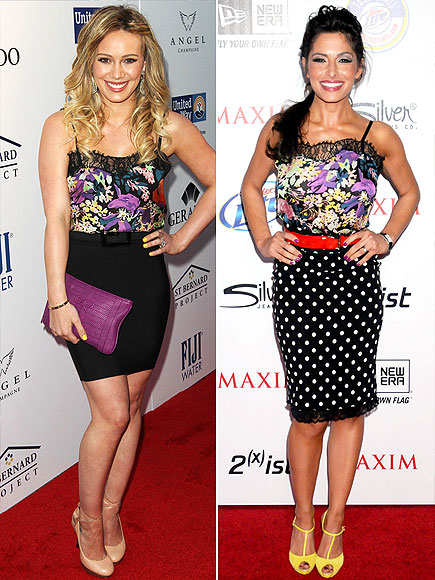 HILARY VS. SARAH
The blond bombshell wore her Diane von Furstenberg top with nude pumps and a purple clutch, while at a different L.A. event on the very same day, the Fairly Legal star styled hers with contrasting accessories.
The Verdict :
Ok I love how Sarah mixed prints (floral and polka) and also the solid colors red and yellow, but Hilary has my vote here, since not only is the blouse fit her better, but the neckline looks more appropriate. And who can ignore her yellow nailpaint or that gorgeous purple clutch?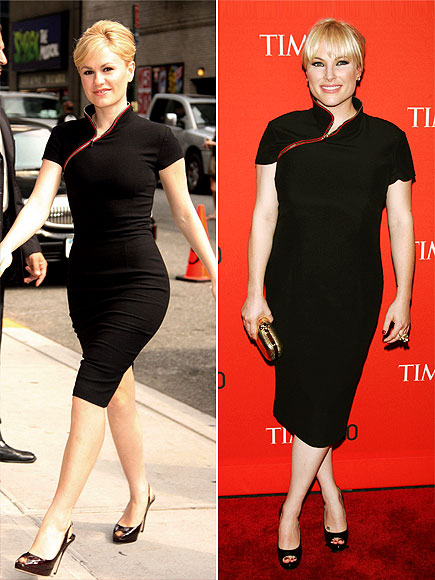 ANNA VS. MEGHAN
The True Blood tepped out in Alexander McQueen for a July TV appearance, while the aspiring political pundit picked a metallic clutch for the Time 100 gala.
The Verdict :
Anna has my vote here since the dress is more fitted and shows her body shape.. Meghan needs to keep looking for something that flatters her better.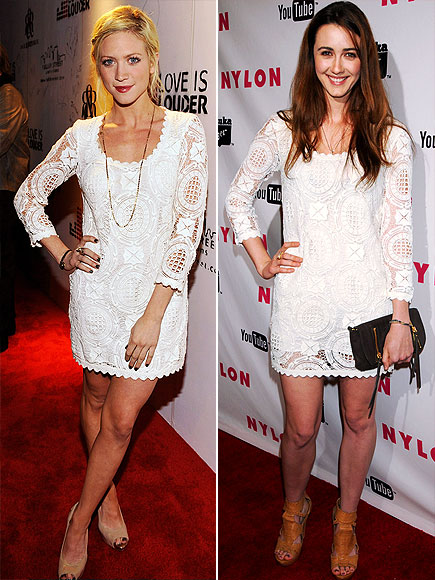 BRITTANY VS. MADELINE
Brittany looked lovely in her French Connection dress, worn with cap-toe pumps and red lips, while Madeline added funky sandals and a black clutch to a magazine party in Hollywood.
Madeline might have overdone it with that black clutch and those burnt orange sandals but Brittany looks cute and very well accessorised here.