Here's the honest truth: Our closets are forever a work in progress. And thank goodness for that!
Everyday we ditch something old and introduce something new, so we have a fresh perspective on what our "look" is all about...or could be.
And while the slouchy trouser or platform of the moment may come and go, every gal worth her salt has to have a sound sartorial foundation from which to draw ideas—and some damn good outfits.
From relaxed jackets, classic khaki bottoms, and solid flat sandals to pretty woven necklaces, a perfect sundress, and slick white jeans, our summer wardrobe list possesses every piece of the hot-weather puzzle...and offers timeless items at every price-point that will last and last for summers to come.
The Maxi-Dress—The modern version of the old-school "hostess" dress is now a must-have all-year-round, but its ease and romantic spirit makes it particularly good for summertime. Wear yours with chunky bangles, a cropped cardi, and your favorite go-to flat sandals.
Topshop Floral Bandeau Dress, $60, available at Topshop; Shumacher Sunshine Maxi Dress, $555, available at My Theresa.
The Jumpsuit/Romper—In shorts or pants, the romper is a great summer staple for all the ladies, and can go from day to night with the flip of a sandal or crisp tux jacket.
Motel Stella Romper, $88, available at Nasty Gal; Gestuz Batik Effect Printed Jumpsuit, $155.15, available at ASOS.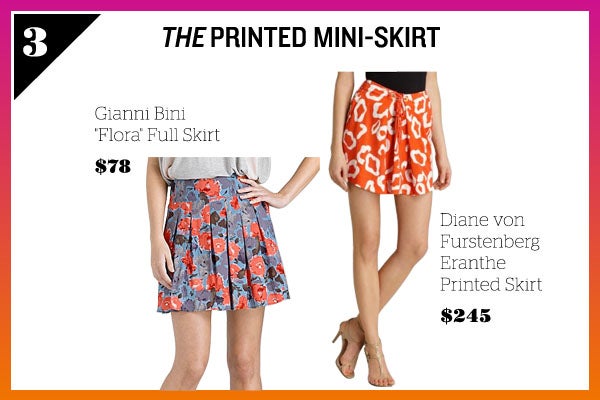 The Printed Mini-Skirt—If you're a short-skirt gal, you probably already own one or many of these, and good thing: A printed mini is the perfect partner for all your tanks, tees, and platform sandals. And depending on the fabric, it can look just as sweet with tights and booties come fall.
Gianni Bini "Flora" Full Skirt, $78, available at Dillard's; Diane von Furstenberg Eranthe Printed Skirt, $245, available at Bloomingdales.
The Oversized Menswear Shirt—If you have to constantly steal this from your boyfriend, it's time to buy your own. In a light chambray or white cotton, the oversized menswear shirt is like the Talented Mr. Ripley of your wardrobe, switching from beachy coverup to office polish like it's no big whoop.
J.Crew Lightweight Camp Popover, $72, available at J.Crew; Equipment Signature Shirt, $208, available at Nordstrom.
The Denim Jacket Or Vest—We can't really imagine our lives without these two staples, and, well, we never want to! Over your favorite maxi-dress, layered under a slouchy blazer, or simply with shorts, it's impossible to count all the ways these two classics can finish your look.
Modekungen Vest, $96.28, available at Modekungen; Vintage Lee Denim Jean Jacket, $298, available at Free People.
The Modern Sundress—A mainstay in women's closets for decades, the millennial sundress cranks up the chic factor with pretty detailing and flattering contouring.
Oasis Bandeau Sundress, $95, available at Oasis; Jason Wu Brigitte Dress, $1,995, available at Net-a-Porter.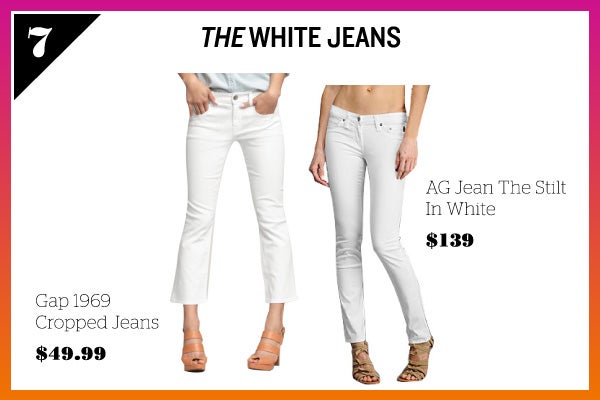 The White Jeans—Who can blame us for wanting to look like Jean Seberg? With your love-worn striped T-shirt, a slouchy tank, or your Oversized Menswear Shirt, this is the one-hit wonder that just keeps on delivering.
Gap 1969 Cropped Jeans, $49.99, available at Gap; AG Jeans In The Stilt, $139, available at AG Jeans.
The '70s Jeans—Lots of readers will say you have to be tall to wear these, but that's just not the case! Find a pair with a leg-width and rise to suit your shape and height, and, with your highest platform sandals, you, too, will feel like a glamazon.
Twenty8Twelve by S.Miller Jeans, $96.24, available at The Outnet; J. Brand Bette Wide Leg Jean, $225, available at Bird.
The "Beach" Cardigan—But it's not just for the beach...it's for the office and movie theater that's way over air-conditioned, the dress that needs a final touch, the work look that needs some layering...this one in stripes or solids, really can do it all.
Madewell Striped Gardengate Cardigan, $72, available at Madewell; Theyskens' Theory Open Cardigan, $416, available at Farfetch.
The City Short—Because not all of us wanna stop traffic in short-shorts (bless you if you do!), the City Shorts offer a more tailored and wearable spin on summer's indispensable bottom (and unlike short-shorts, you can wear these with a heel or platform without looking très tacky).
ASOS Tailored City Short, $51.72, available at ASOS; Cacharel Cuffed Shorts, $231, available at
Matches.
The Perfect Tank-Top—We don't have to list ALL the ways you can and will wear this...just trust us. Once you have one in your closet, you'll wonder how you ever lived without it.
Madewell Ticker-Stripe Tank, $24.50, available at Madewell; Bruce Silk Tye-Dye Blocks Tank, $320, available at Bird.
The Red Pant—Bold-colored bottoms are a big trend lately, but the lipstick-red jean or trouser is our flat-out favorite. Maybe it's because they're discreetly sexy, or because they look good on everyone, we just think you should own them and wear them a lot...immediately.
Topshop Red Belted Pleat Front Tapered Trousers, $85, available at Topshop; Stella McCartney Crepe Cropped-Ankle Pants, $675, available at Neiman Marcus.
The Animal-Print Blouse—If you weren't lucky enough to have a well-dressed mom who passed hers down to you, then it's time to invest in your own. Even if leopard prints are still all the rage, an Animal-Print Blouse is one of the cornerstones of a great wardrobe, trendy or not.
Warehouse Animal Print Swing Blouse $72, available at Warehouse; Alice + Olivia Arie Dalmation-Print Blouse, $264, available at Cusp.
The Sophisticated Swimsuit—Maybe you wear swimsuits frequently, maybe you only wear them when you have to. Either way, it's time you found your own one-piece that's grown-up, flattering, and makes you feel like the gorgeous babe that you are.
Old Navy Halter Swimsuit, $25, available at Old Navy; Lane Lines Maillot, $168, available at Anthropologie.
The French Bateau Shirt—Don't just own one, own many! In short sleeves, tanks, long sleeves, etc., the Bateau shirt is literally one of the most indispensable pieces in a busy woman's wardrobe. With white jeans, a long maxi-skirt, under a blazer, over a button-down...oh well, you get the picture.
Aqua Three-Quarter Boxy Tee, $19.20, available at Bloomingdale's; Joie Shasta Striped-Silk Top, $148, available at Bergdorf Goodman.
The Safari Blazer/Jacket—We believe in blazers all year round, but for summer, opt for a more neutral and breathable Safari Jacket, which not only plays nice with almost everything in your closet, it'll also stay cool for years (and years!) to come.
Michael Kors Casual Safari Jacket, $150, available at Michael Kors; Tory Burch Jillian Jacket, $425, available at Tory Burch.
The Flat Neutral Sandal—Don't have them? Shame, shame! You know those mornings when you're late for work, it's 1,000 degrees out, and you just want shoes you can walk in that still look elegant? These are them.
Seychelles Anthology Tan, $88, available at Lori's Shoes; Opening Ceremony Julietta Sandal, $325.50, available at La Garconne.
The Khaki Trouser—Same story as that of the Khaki Blazer/Jacket: Adaptable, comfortable, timeless...like play pants for big girls.
Michael Michael Kors Pants, $90, available at Net-a-Porter; J.Crew Minnie Pant, $138, available at J.Crew.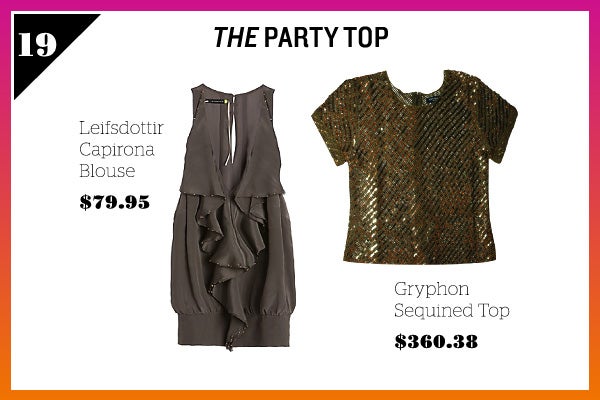 The Party Top—And it's not just for parties. It's for those days when you want to play around with your look and mix feathers and sequins with denim and khakis. Consider it the cool curve-ball in your wardrobe, and every woman should have one she loves.
Leifsdottir Capirona Blouse, $79.95, available at Leifsdottir; 
Gryphon Sequined Top, $360.38, available at Glassworks
The Bold Sunglasses—Like, why wouldn't you want to look like a French actress in the '70s or Jackie in the South of France strolling with Valentino? All the time?
Cheap Monday Sunglasses, $32, available at Alex and Chloe; Karen Walker Patsy Sunglasses, $180, available at La Garconne.

The Structured Tote-Bag—Your most practical go-anywhere summer bag does NOT have to be shapeless and sad-looking. It can have dimension, personality, and a whole lot of awesome. Yes, this is your bag, and you will love bringing it with you everywhere, from long nights at the office to long weekends away.
J.Crew Racer Tote, $62.50, available at J.Crew; Nanette Lepore Perforated Open Weave N/S Tote, $525, available at Zappos Couture.
The Chunky Bangle—Summertime demands accessories with a wink and a friendliness about them, and that is pretty much why we love bold and colored bangles. Worn alone, in stacks, or mixed with all your other bracelets, they're nearly always universally glamorous.
Marc By Marc Jacobs Resin Stripe Bangle, $58, available at Bloomingdales; Isharya Resin Bangle, $308, available at Boutique1.
The Day-To-Night Platform—During the summer months, our days tend to be longer, and, hence, our feet put in overtime. Treat 'em with kindness by finding a great pair of sophisticated platforms that you can wear with everything AND walk in.
Colin Stuart Braided Platform Sandal, $60, available at Victoria's Secret; Opening Ceremony $378, available at Opening Ceremony
.
The Classic Brown Belt—Oh, how do we love thee, let us count the ways. Suffice it to say, this baby can easily connect all the dots when you're getting dressed. We particularly love it over your Khaki Jacket, Maxi-Dress, or Menswear Shirt...but who's counting?
Ralph Lauren Leather Oval Belt Buckle, $52, available at Ralph Lauren; Guess Leather And Raffia Loop Belt, $150, available at Guess.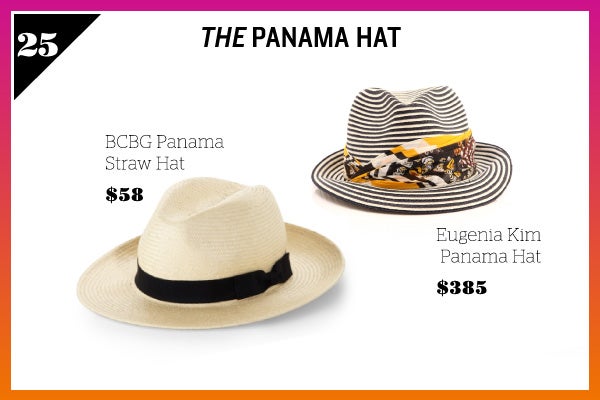 The Panama Hat—Stay covered and cool in a straw Panama hat that suits you. Just don't leave it on the plane or train like we always do!
BCBG Panama Straw Hat, $58, available at BCBG; Eugenia Kim Panama Hat, $385, available at Matches.
The "Big" Earrings—A recent favorite among R29ers, the Big dangly earrings are a nice switch from heavy, chunky necklaces that can make us feel weighed down. Plus, they're a little flirty.
Kenneth Cole New York "Urban Horn" Black & Gold Mini Chandelier Earring, $26, available at Endless; Gold Teardrop Cutout Earrings, $73, available at Charm & Chain.
The White Sneaker—Remember, practical never, ever has to mean boring! Case in point, the smart White Sneaker. Hell, even smarter when they get beat-up a bit.
Native Jefferson Sneaker, $50, available at Revolve Clothing; Comme des Garcons Play Canvas Sneaker, $100, available at La Garconne.
The Woven Necklace—Just the neck-candy we're craving in the hot summer months, and the modern-crafty element never crosses the line of kitsch.
Sequin Cleopatra Rope Necklace, $60, available at Charm & Chain; Florian Rope Necklace, $315, available at Opening Ceremony.
The Clutch/Cross-Body Bag—We believe in being resourceful. And if space in your closet is as hard to come by as it is in ours, than this dual-purpose bag is a definite must, for all-day Saturday galavanting to late-night evening carousing.
Armani Exchange Crossbody Bag, $68, available at AX; Prada Canvas Flap Bag, $874.99, available at Saks.
The Printed Scarf—There are many ways to wear this pretty little thing (as a head-band, turban, neckerchief, braid tie, bag accent, etc.), but we might just love it more because it's beautiful to look at—and seems to embody the stuff we love about summer fashion the most.
Closed Printed Scarf, $89, available at Farfetch; Tsumori Chisato Dot Scarf, $245, available at Opening Ceremony.