Just today I shot an advert with an Indian actress/tv anchor who was almost 9 months pregnant! The ad was about stem cell research.. For the first time in my short career, I was hunting for clothes that were L and XL instead of the usual XS and S!
So based on that, here is a post for pregnant women, including some tips I found on various sites..
These are some pointers when you are on a budget while buying clothes..
Buy basics
All those magazine features telling you it's possible to survive the nine months armed only with three items of maternity clothing and a spangly handbag are WRONG. No woman wants to wear the same thing over and over again, especially if she's feeling nauseous, fed-up and fatter than usual. And you're pregnant for nine months -- that's at least two or even three different seasons of weather. Not to mention two different seasons of fashion!
Nevertheless, investing in a few 'key' items of maternity wear that can be mixed and matched will take you a long way.
To begin with, choose clothes that are designed for the entire pregnancy -- these come with adjustable waistbands, straps, and so on, that can be modified to suit your size. You may opt for maternity pants, jeans, and skirts with an under-the-belly fit that provides comfort and looks stylish. Stretch pants, T-shirts, and well-fitting undergarments that provide support are all essentials in your maternity wardrobe.
• a couple of linen kurtas in white. Choose two different lengths -- one short and one long. These can be teamed up with different pant
s
, capris and jeans for a new look each time.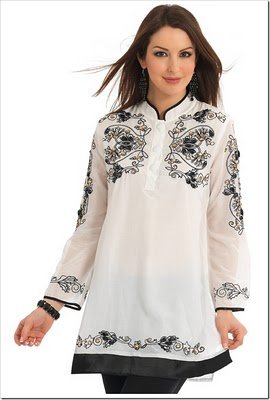 • a couple of empire cut dresses
• two pairs of well-cut trousers with adjustable waistbands
• one pair of capris or dungarees suited for pregnant women
• a couple of wrap around tops. Pick something in plain colours, floral prints or traditional block prints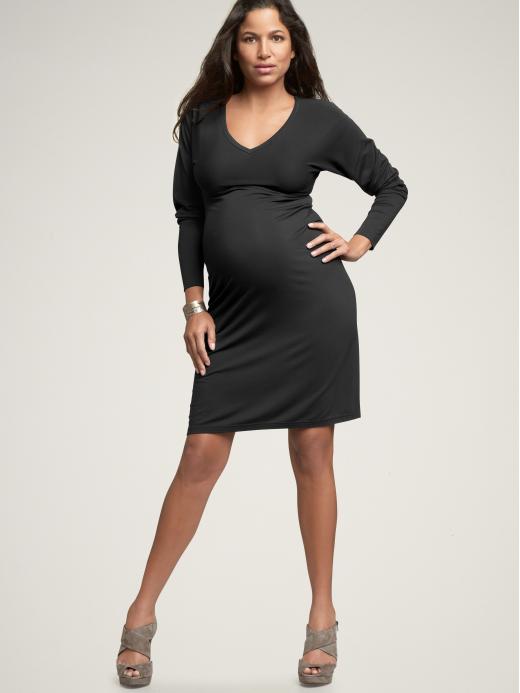 • a cardigan or light jacket
• a plain sweater or a jumper that can be worn over most outfits
• two casual tunics -- these can be teams with skirts, pants, capris or jeans
• a smart formal top for special occasions
• For added variation, pick a range of cheap, colourful T-shirts and sleeveless vest style tops. These are easily available in stores selling export surplus goods.
• Opt for tracksuits or pants in lightweight stretch jersey for comfort wear. The cotton will stretch, but consider buying a size or two bigger than normal.
•
Kaftans
and poncho tops may be great when you are lounging around your home.
Most women may find it difficult to find that perfect pair of jeans. However, the taller and leaner pregnant women swear by men's jeans. If you can find the right size, they'll fit snugly under your bump, avoiding the unattractive 'high-waisted' look and eliminating the need for frumpy elasticated panels.
Don't forget to buy underwear that provide support and are comfortable as well.
Bag a bargain
There are just a few stores, which offer exclusive maternity wear. If you're lucky, the end-of-season sales in these stores will coincide with your pregnancy. It may feel strange buying winter clothes at the beginning of spring (especially if they look worryingly big so early on in your pregnancy!), but thinking ahead is an excellent tip. You may also want to check out stores for plus sized women -- you may find the right style and size in these stores if maternity wear is tough to find elsewhere.
Accessorise
Beads, bangles, bags, watches, scarves, vibrant dupattas, stoles, shawls and shoes -- the possibilities are only as limited as your imagination. A basic wardrobe can be brightened up with accessories, such as belts that sit below your bump. You can dress an outfit up or down to suit both occasion and mood, and the best thing about accessories is that you'll still want to wear them after the baby is born. Unlike those enormous pants that suddenly remind you of a military parachute...
Adapt what you already have
Before your bump becomes too big, you can make do with your existing clothes by wearing longer tops -- hiding the fact that you've left the top button undone on your trousers. Later on in pregnancy, with a bit of crafty needlework or with the help of a good tailor, you could use buttons and fabric panels or strips to temporarily extend or alter your favourite clothes. Again, those longer tops will come in handy. When elasticated waists feel like they're groaning under the strain of your tummy, you could replace them with a drawstring.
Choose the right footwear
It is fine to use your regular footwear -- so long as they are flat or low heeled, provide good support, and are well cushioned. If your footwear is not proper, you could come down with lower-back problems. Avoid wearing high heels; you may find it harder to balance as your centre of gravity changes, and you are more likely to trip or fall.
Share your clothes or throw a clothes swapping party
In many close-knit families, maternity wear is shared between women, or passed on from one to another.
If the idea of clothes swapping appeals to you and your friends, plan a clothes-swapping party. Invite your pregnant friends, close relatives plus those friends who are already mums. The latter should have maternity clothes they feel more than happy to part with, and might like to borrow some of your clothes in exchange.
The swap does not need to be permanent, and you could turn it into a fun evening by sharing stories, healthy snacks and drinks and even playing silly games or having a mock fashion parade! As a BabyCenter mum pointed out, some of the clothes will probably be "hideous", which should make for a good laugh.
Borrow your spouse's clothes
If you're just slouching around the house, raid your husband's wardrobe. His T-shirts, sweatshirts and jumpers are bound to be big enough, and you can save your own clothes for when people will actually see you. The elasticated waist on men's boxer shorts and pyjama bottoms makes them comfortable to wear in bed. If your spouse's clothes are too big for you, you could always buy a couple of boxer shorts from a men's store.
Get online
If you're a fan of internet shopping, the web is a treasure trove for bargain hunters. You could look for stores that have good offers, auctions or sales. Many International brands are easily available in leading stores and you may want to check them out as well.
Some sites offer exchange services for women who longer want their maternity clothes, while others sell discontinued lines and ex-catalogue clothing for a mere snip of their original prices. You could also take a print out of the most happening maternity styles and have your tailor stitch it on similar lines.
If you're a fan of auctions, log on to
eBay
for maternity wear at very reasonable prices - the bidding system makes shopping much more exciting and you might discover a gem.
Most importantly...
Remember to treat yourself now and again. As your body starts using weird and not-so-wonderful ways to remind you of your status as a mum-to-be, it's all too easy to forget that you're a woman in your own right. Love your new curves, flaunt a new hairstyle, experiment with make-up, play up your amazing cleavage and go to BabyCenter's pregnancy feel good calendar for week-by-week ideas on pampering yourself.