Rocky S has made quite a name for himself in the fashion fraternity of India. Having an artistic mind and a flair for creativity, he moved against the normal flow of work and chose to make a name in the fashion world.
The young and talented designer has renewed the way fashion is operated in India. His ingeniously created designs were not only creatively applauded, but also changed the trend in the industry. He brought an age of revival and this time, the revival was for clothes.
After making a niche in the industry as well as a successful venture into the retailing forum, with the launch of his brand 'Rocky S', he has moved further, being the first Indian designer to launch a fragrance. Rocky S Noir Femme and Rocky s Noir Pour Hommes was unveiled by Arjun Rampal at Aurus Lounge.
As a college student, Rocky studied commerce, but his haunting interest in clothes pre-occupied his mind always. He recommended people what to wear and helped them in their dressing sense. It was then that he decided to take up fashion designing as a profession. His father was a chartered accountant. His elder brother was into construction, while his other brother was an accountant by profession.
Being a family which was into main stream work environment, his desire of being a fashion designer was not taken swiftly by his family members. All they understood about fashion designing was that it was a sophisticated version for a job of a tailor. The idea seemed absurd to them, but after much resentment, Rocky S had his way. He joined the J.D Institute for fashion designing and got formal training. Being blessed with an innovative mind and novel ideas for clothing, he just needed to polish his skills.
Rocky S has his first job at the Roopam, which served as the turning point of his career. His profile, as the official head designer, in the organization worked wonders for him. In three years of his association with Roopam, he grew as a designer. His first break into the glitz world, as an individual entity, was when he designed for Akshay Kumar. This was Rocky's launch pad in Bollywood. His designs became a rage in the industry and he was thus approached by producers who lined him for their various projects. He had already set up a small scale manufacturing unit, but it seemed like destiny had other plans for him.
(P.S - I was at this show and helped the model, Lisa Hayden, on the extreme right for all her changes!)
Being overloaded with designing offers from Bollywood, Rocky S left Roopam for a full fledged career in designing the outfits of stars, for their films as well as privately. After getting a hold in Bollywood, he launched his own boutique 'Rocky S' in Juhu, to give a vent to his creativity. The boutique has both men and women designer collections. Known for giving a young, vibrant and full of life collection, he has participated in a number of fashion shows, displaying his inventive and original styles. The drive to gain international fame and success took him to Dusseldorf-Germany, where he participated in IGEDO fair, in September 1996.
Rocky S makes clothes under his label 'Rocky S' only. Known for his excellent construction, detailing and finish, Rocky S has not only mastered the art of designing clothes for movies, but has also plunged into the other sectors of the industry. He started doing bridal couture, club wear, home furnishing and accessories and now, has made a jump into the fragrance industry. Rocky S is now planning to launch a children's wear collection and a line of ethnic indo-western fusion garments.
He has collaborated with the corporate house Sepia as their creative consultant and has come up with contemporary, reasonably priced line for the modern working woman, who likes to be fashionable yet conservative. Rocky S would open a lifestyle store, by the name "Boulevard Benzer" His client list includes stars likes John Abraham, Bipasha Basu, Shilpa Shetty, Salman Khan, Katrina Kaif, Hrithik Roshan, Priyanka Chopra and even Beyoncé Knowles. He plans to venture into the international forum and be globally recognized as a trendsetter.
Rocky S designes for several lines: NOIR, COUTURE, CLUB, BAGS, HOME, PARFUMS.
NOIR: looking at these designs two words are on my mind: ROCK & PUNK. Fabrics are cool, the silhouttes are sexy and it is stylish.
COUTURE: this is an exclusive collection of haute couture ethnic wear. A very stylish line with the traditional elegance.
CLUB: This a youthful collection for men and women. It is playful, hip and has the Rocky S attitude.
BAGS: Do you like bags with an attitude? This is it. Bags in all sizes and styles.
HOME: yes, even in your house you can have a designers touch. What I like about it is, that there is a mixture of Indian fusion. Colourful with high quality fabrics.
PARFUMS: he created a fragrance for men and women and according to Rocky S "it is a reflection of his style".
Some of Rocky's best on the runway..
Rocky S and Bollywood actress Bipasha Basu
Bispasha Basu in a Rocky S creation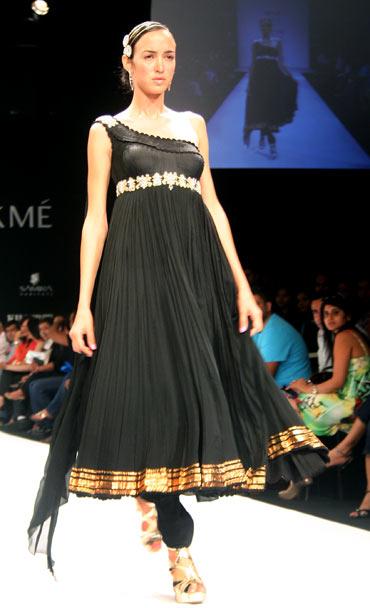 Rocky S with Dia Mirza
Hema Malini and daughter Esha Deol in Rocky S bridal wear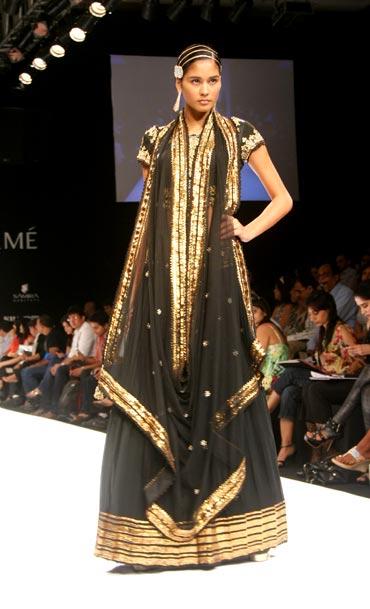 Rocky S with Bollywood hunk, John Abraham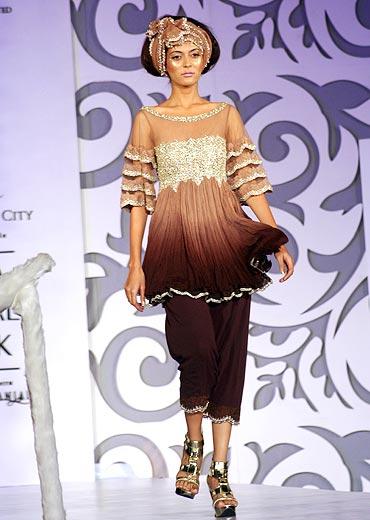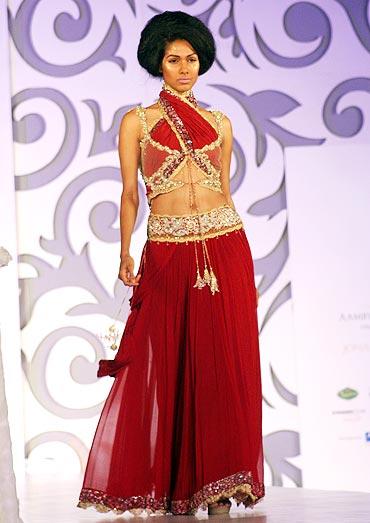 Bipasha Basu
Rocky's creations worn by the Pussycat Dolls
Beyonce wears Rocky S