Lady Gaga
Gaga 'walked' the carpet like this.. In an egg..
P.S, the girl one the right

is model Anne Vyalitsyna, girlfriend of Maroon 5 frontman Adam Levine (she appeared in the band's video for "Misery").
Womb courtesy of Hussein Chalaya.
Later on when it was time to perform. she popped out and was 'Born this Way'..
Outfit courtesy of

House of Mugler.
Gaga is a huge fan of Thierry Mugler and has worn many outfits including..
This one.. In many other colors..
And I'm pretty aure he does most of her styling too!!
And finally while accepting her award she changed into this..
Cyndi Lauper
Cyndi chose to wear a tacky halloween outfit for music's biggest night!
BTW, this was Cyndi about 2 weeks ago..
She suffered from some sort of allergic reaction to a spa treatment..
Here is her face from the Grammy's..
Great damage control Cyndi!!
Katy Perry
I don't really like PDA on the red carpet, we all know they are married but do we really need to see it?? Kissing just to pose for cameras?

Katy Perry probably did nit have enough of her Indian wedding, that she had to wear a 'wedding gown' to the Grammys!! But even a wedding gown would have been slightly better than that silver embellished bra and the high waisted 'tango' skirt made from organza and plastic?
And to top it off, angel wings and killer Casadei platform heels!!
Later on during her performance, Katy changed into this little number which was very much her..
All outfits of Katy by Giorgio Armani..
Lea Michele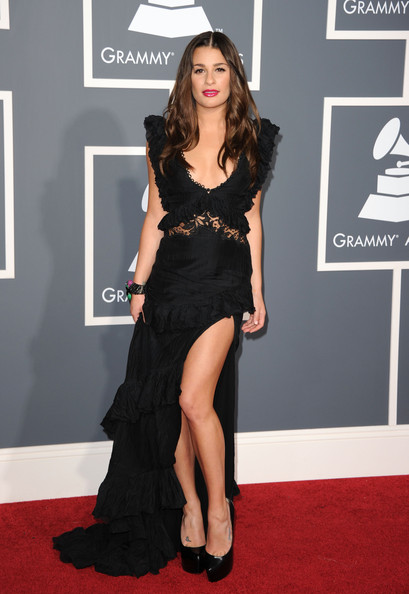 Lea Michele arrives in a high-slit Emilio Pucci number with an abundance of lace on the yoke. Notice the Christian Louboutin pumps.
Skylar Grey
The singer kept it very simple in a black gown with soft drapes. But the back was not so simple after all!
Haley looked cute, but the hair and the skirt just did not go together at all!
I love the cross seen on her thigh and the look of the outfit too, but it just did not pull off!!
Faith Evans
Faith wore an assymetrical hemmed skirt with a matching almost off-shoulder translucent blouse.. The only over-kill was the shiny zig-zag line on the bust!
Martina McBride
Looks like black was the color of the night, as everyone preferred it. Martina wore an assymeterical hemmed dress with a lot of drapes and a one shouldered kimono sleeve.. This outfit is so close to 'Art project'
Although I like the fact that she tried to add color with her bracelets!
Selma Blair
The mum-to-be looked so pretty in a Lanvin gown..
Eva Longoria
Eva looked picture perfect in an Ashi studio mini dress with the large collar adding to the glamour. She paired the outfit with Brian Atwood pumps and dressy Loree Rodkin earrings.
Toni Braxton
Toni teamed a white pearl-decked top with a plunging neckline and a black skirt with a long train.
Loved the pretty bangle and the stone-encrusted clutch.
Florence Welch
Paz Vega
Spanish actress Paz Vega looked gorgeous in a white backless minidress with delicate silver borders along the sleeves and neck and back.
I love the tiny little bow at the back!!
Mayra Veronica
Model/singer Myra looked fab in what seems to be a Herve Ledger bandage dress..
According to me, these are the body types that need to wear these special dresses..
Rihanna donned a body-hugging Jean-Paul Gaultier gown.
"I pretty much snatched it off the runway," she told Ryan Seacrest before the show started (the singer appeared at the show even though she had been battling bronchitis and laryngitis).
Its just a little too flashy from me..
Naya Rivera
The pretty Glee actress wore a cute mullet dress with YSL Trib Too platform pumps.
Selena Gomez
Selena looked sweet in a sparkly J Mendel gown with a plunging neckline.
Heidi Klum
The supermodel attended the Grammys in a Julien Macdonald figure-hugging golden gown with a high slit and teamed it with Christian Louboutin peep toes.
Pauley Perette
Pauley Perrette painted a graceful picture in a green Terri King mini dress with musical note prints. Love the bows at the back!
Bonnie McKee
Bonnie makes a style statement in an orange and white shaded mullet dress.