Wig Tape Keeps the Girls in Line
You'll never believe the biggest red carpet lifesaver of all: Wig tape. According to Sawhill, it's "the best form of double stick you can use in order to keep stubborn dress parts in place." Just ask for it at your local beauty supply store. Sawhill says, "You can cut to any shape or length needed and its holding power is much stronger than your typical Scotch double stick." It's great for gowns with plunging necklines. Plus it's a quick fix for falling hemlines, and can help keep pesky feathers or petals in place.
Stilettos Fake Gym Time
Yes, they're super stylish and yes, they're hotter than hot, but that aside, Scott says you should always wear the highest heel you can because they "help elongate your curves and make your body proportions look better." She suggests wearing a 5- or even 6-inch heel if you can handle it. Stiletto platforms, like the ones here on Kristin Cavallari have been stabbing red carpets all over town, but we suggest a few turns in your bedroom before making your sky-high debut.
Black and Red Do Not Mix
Chanel made her point. The LBD is a staple -- but try mixing it up once in awhile (like Natalie Portman did her with this gorgeous blue dress).
When it comes to picking adress color, Scott says to be sure to wear something that compliments your coloring. "Jewel tones are rich against the skin. Black or grey will wash you out. People pick black because it's easy or they think it will make them look elegant, but black can make you look older." Something celebrities dread even more than a box-office bomb.
If You Liked it Then You Shoulda Put a Minimizer On it
And they're not just for the single ladies. (OK, all done mocking Sasha Fierce.) In all seriousness, minimizers are a gift from the slimming gods. "Undergarments can help achieve the ideal silhouette and fit," Joeright says. "It helps bring in the waistline and tighten the hip area, creating an hourglass shape." Spanx and Victoria's Secret have really great options.
The Red Carpet Can Get, Uh, Nippy
Joeright says, "If you need a strapless bra, get one with rubber backing or grip at the top. This will keep it set properly in place with little adjustment required."
But as styles get more daring, you may find bras are not always an option. To avoid the dreaded nip-slip, Zoe says, Breast Petals may do the trick. "They are fairly smooth and unnoticeable while keeping modesty."
Beauty Is Pain -- But Doesn't Have to Be
How many times have you had the "my feel are killing me" conversation with someone at the best party of the year? It seems like the sexiest shoes (like Shakira's, here) are the worst offenders.
"Shoes complete a look," Joeright says. "Often heels are uncomfortable for consecutive hours of wear. I always put in a pair of shoe pads. They come in fun patterns, my favorite are animal prints. They offer some comfort and also keep the foot from sliding forward in the shoe. Toes hanging over the front edge of open-toed shoes and heeled sandals is not an attractive look."
Sand Paper -- Quick Fix for a Slippery Sole
Joeright says, "For new shoes with slippery bottoms, it may help to use a little sand paper on the base to create grip." We want you to sail around the dance floor, not go sailing to the floor. Although that's one sure way to end up on the gossip blogs.
Ruffles and Pleats Add Volume
Joeright says that actresses with small frames should choose a dress that won't swallow them up. "She should be wearing the dress not the other way around," she says. "Oversized patterns can pose this problem." Keira Knightley pretty much nails it here -- adding great shape with ruffles and pleating, but not looking like she should be perched on top of a wedding cake.
Cut-Off Nylons to the Rescue
Body-clinging dress styles are gorgeous but can sometimes pose a problem when it comes to underwear (VPL anyone?). Sawhill says that sometimes even the skimpiest of underwear won't do. In these cases, she uses cut-off nylons.
"Simply cut off the legs and you have yourself the thinnest pair of boy shorts ever. These work wonders under silk charmeuse gowns or as an undetectable layer under
lighter colors
where even the triangle of a thong would be seen. Use a cheap pair from the dollar store and save the legs for ultra sheer socks that can be worn later with super slim boots." Gotta love the multi-use, it feels so eco-chic.
Fishing Line and Busted Jewels
Sawhill says, "A needle and clear nylon thread are a must. If a zipper busts or
strap
breaks there is nothing left to save you but these. Sew yourself in for the carpet and worry about getting out of it later. This is also a great way to fix broken jewelry. A few clear stitches can hold a
broken chain
or wrist clasp together when time has run out for a proper repair." Plus, this stuff is small enough to fit into your "holds nothing but is totally cute" clutch.
Look Electric Without the Static
You know those days. Horrifying static is in the air and your hair is bearing a striking resemblance to a
Troll doll
's. Ortiz recommends an
unscented dryer sheet
. According to him, all you do is "very lightly touch the hair. It gets rid of flyaways." How's that for a
home remedy
? Betcha you can even re-use the dryer sheet in your next load, we're sure that's what all those
frugal celebs
do.
Pour it in a Glass or on Your Head
How can you punch up the tones of your red hair? Ortiz is a firm believer in cranberry or pomegranate juice as a hair treatment. He says, "It stains the hair and makes it rich." Just apply it, leave it on for 20 minutes and then rinse off and style as usual. And unless you want your shirt to look like a piece of evidence in a murder trial, try wearing something dark while you "treat" yourself.
Keep Eyeshadow from Becoming Cheek Shadow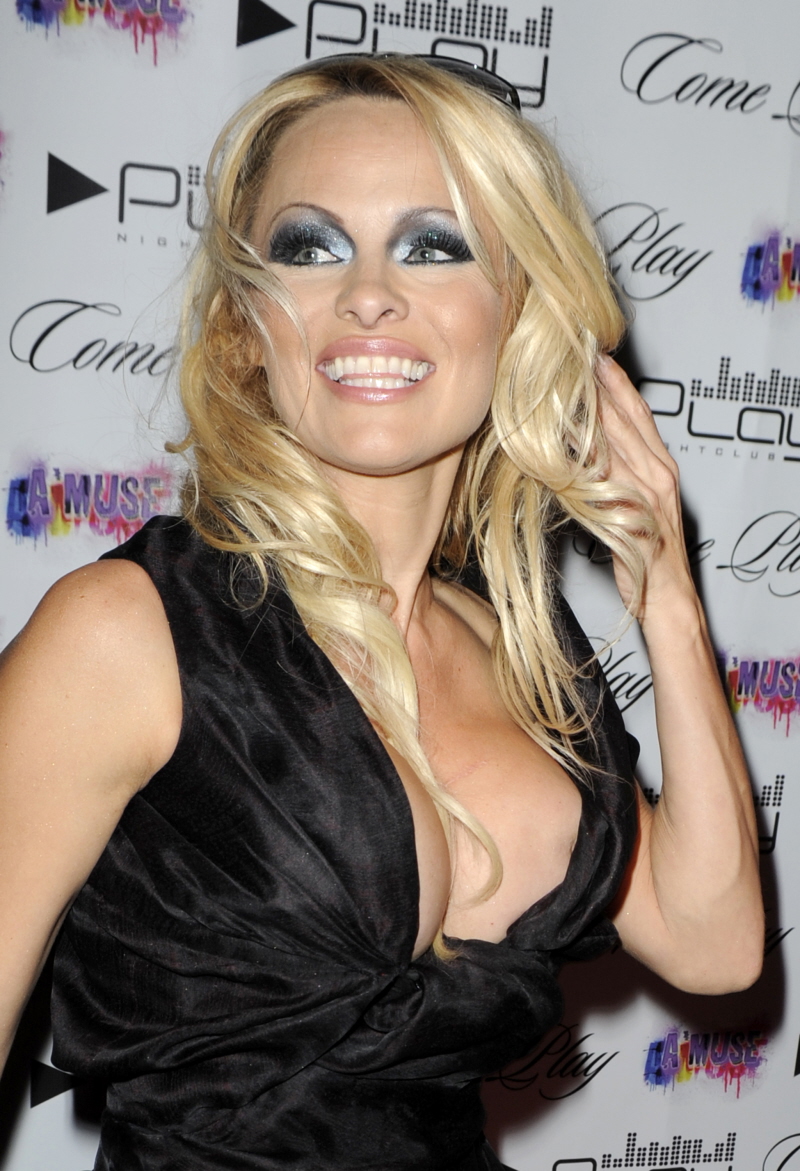 No matter how much you tap the excess off your eyeshadow applicator, some always seems to fall on your face under your eyes. When you're in a hurry, the best thing to keep in your
cosmetic case
is some Scotch tape. Clark says, "Just tap it on the skin to pick up anything that falls." Note that we said Scotch tape, not duct tape. That would be painful. Or
kinda funny
if someone else did it.
Another tip: apply eyeshadow before any foundation. That way you can clean it up before applying anything that could potentially get messed up.
Fake a Glow All Night Long
How do you maintain that just-been-making-out glow on your cheeks the entire night? Clark has a great trick. She says to apply Benefit Benetint, $28, or a similar stain, as a first layer on your cheeks, then brush a powder blush over the top. "It makes it more intense and gives it staying power, for long wear."