Dresses made from condoms
On World Aids Day, a creative seamstress from New York decided to commemorate the day with a very interesting, painstakingly difficult wedding dress.
This particular wedding dress was fashioned from 12,500 individually colored & hand-stitched condoms.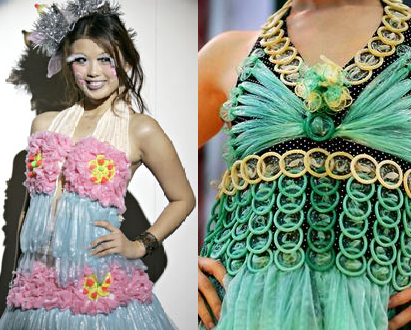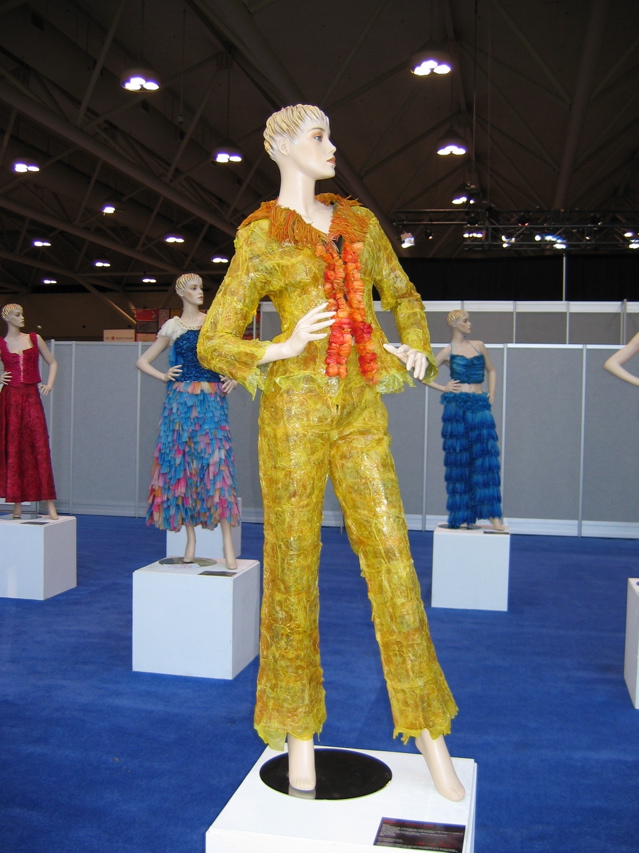 Dress made from phone book paper
Jolios Paons, the amazing mind behind this piece of art, designed this couture dress with paper from a phone book.
Fancy
that now.. You have everyone's phone numbers on you. And I
literally
mean
everyone
!!
You may say it is easier to pleat paper than it is to do fabric, but I cant imagine the hours Paons might have put into it.. I applaud his brilliant creation.
Dress made from china (porcelain)
This masterpiece, designed by Li Xiaoufeng, is made entirely out of porcelain
Dress made from stuffed toys
Lady Gaga wore this bubblicious dress in her concert tour last March 12, 2009 at the House of Blues, San Diego, California.
Hussein Chalayan's popular dress is made of actual plastic bubbles.
Dress made from rubber bands
Margarita Mileva, an architect working in New York City, created
the "
RB Dress
", was originally created for "Wear Is Art", a design competition in Berlin, but it continued to attract attention even after the contest ended. Milev constructed the dress by hand, painstakingly weaving an astounding 14, 235 rubber bands into an haute-couture gown. That's approximately 4 kilograms of rubber bands.
Some more clever versions of a rubber band dress..
Made by a young woman, Ruby, for her school project,

she is now taking custom orders for dresses, gowns, costumes, etc. She's done stuff for weddings and Halloween and she's also been part of an exhibit in Singapore already. If you're interested, you can email her at :

rubyredulla@gmail.com..
Dress made from peacock feathers
This unique dress was featured at the Wedding Culture Expo held in Nanjing, China on Saturday, March 28, 2009. In addition to the extravagant peacock feather detail, the dress is adorned with 60 Hetian jades and costs an estimated $1.4 million USD. According to
Luxury Launches
, the dress is composed of 2009 peacock feathers and required 8 craftsmen 2 months to finish!
Dress made withl light sensors
here'll be no more hiding your emotions behind that hat and scarf. It's time to show everyone how your feeling. This unique dress, designed by Philips, will
actually
show everyone how your feeling! If you're stressed or angry it turns red, but if you're calm and relaxed it goes green. With 2 layers, the under one senses your emotion by measuring sweat and body temperature, and in turn signals the outer layer to alter its colour. Amazing!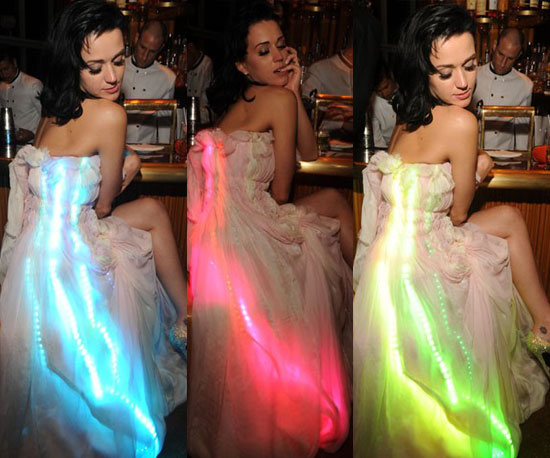 The video dress
This video dress was designed by Turkish designer Hussein Cahalayan. His striking creation shows a time lapse of a rose opening and closing up, in a spectacular display of colours and light, created from 15.000 LEDs that are embedded in the fabric. The dress was presented at Milan Design Fair.
Dress made from duct tape
Franc Fernandez
was the designer/artist responsible for creating the dress for Gaga, and confirmed
that it was, in fact, made out of real meat.
Dress made with tissue/toilet paper
Created by abstract artist Kasey McMahon, this is not just a dress that resembles a birdcage. It is an actual fully functional birdcage. Unusual dresses are taken to another level here, and I love it! So if you're going on a night out and wanna dress a little quirky (to say the least), but can't bear leaving your precious parrots alone…then i guess you can kill two birds with one stone, if you excuse the pun!
The wedding dress is made up of cream puffs and cake frosting. Truly delicious literally.
Created from 120 zippers by Sebastian Errazuriz, this unusual dress allows you to just zip or unzip it to whatever style or length you want.
Designed by Grace Johnston, this fantastic dress is made completely out of bent and laminated wood, apart from the nuts and bolts used to fix it all together. Not only does this cool outfit look like one of the most unusual dresses you ever saw, it also gives you the ability to curtsy by tugging on the metal rings at the side – raising the lower part of the dress up! How proper!
Recycled paper dress
And what better a way to help preserve the environment than making a dress out of all your used rappers, plastic bags and paper packaging?
The umbrella dress
Stylish dress created for Orbit Mist print advertising campaign
The color-in dress
The garbage bag dress
The soda can dress
Jane Tan's soda can dress
Grass dress
Creative "dress" sculpture by talented artist Robin Barcus Slonina.
Newspaper dress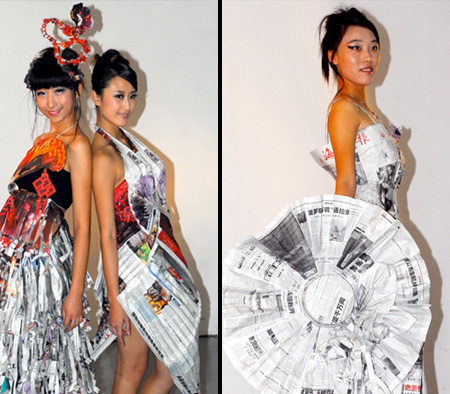 Recycled newspaper dresses made by university students in China.
Outfits made from food
Ted Sabarese shoot a series of pictures called

"Hunger Pains" years ago, shows us a variety of garments with materials of vegetables, bread, fruits, etc.. The food in the apartment with a very neat that these clothes look so unique.
Paper dresses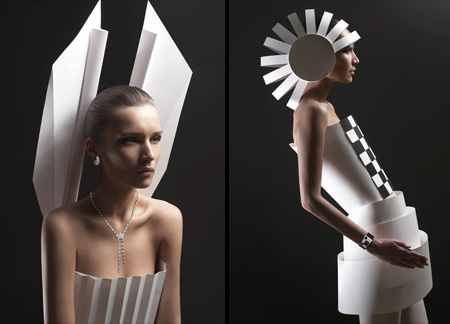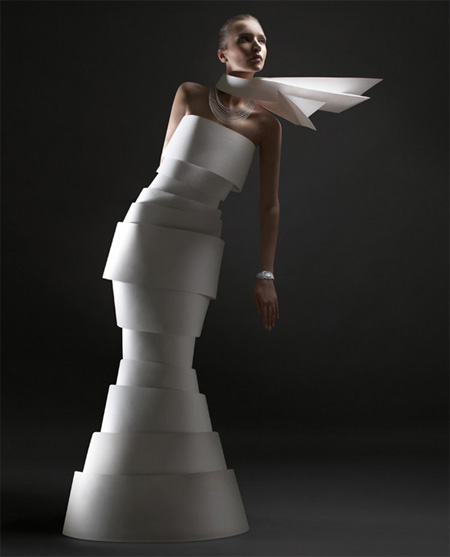 Beautiful dresses created by Alexandra Zaharova and Ilya Plotnikov
Shopping bag dress
The perfect way for any shopaholic to recycle those extra shopping bags.
Car radiator dress
The money dress
I would rather buy dresses and shoes with that money!